Empowerment Conference Held for DMAE and JDMS Students
"
What I got out of it was that you should love yourself. You have to accept your differences from others, and accept yourself.
— junior Wendy Casmiro
On March 13, 2019, the ZONE accompanied a group of students and staff from DMAE and Janis Dismus Middle School to the second annual "Break Free and Soar Conference," a female empowerment conference held at the Englewood Community Baptist church. The event was held from 9 a.m. to 2 p.m. and was a collaboration of local organizations including the Bergen Volunteer Center, Bergen Community College, Bergen Promise, and the Women's Rights Information Center.
Four topics of discussion were on the program: self-actualization, personality tests, the pros and cons of social media, and the importance of self-awareness.
"It was an event tailored to teenage women. Sometimes girls, teens, don't know how to deal with certain circumstances. Social media can be very big, but also very tricky, just in what people are posting – fake life," ZONE adviser Chantel Ferreiras explained. "The conference focused on your real life, and how it affects your actions," she added.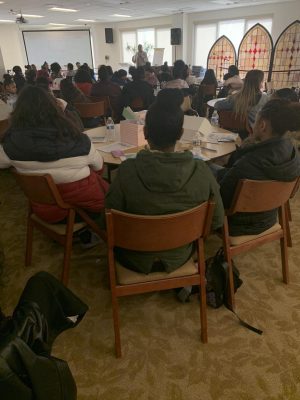 Audrey Davis, founder of Get Your Goddess, kicked off the conference with a lively speech on empowerment through "getting to know one's goddess," or an individual's inner strength. Her program was focused on five principles that are integral to building a person's sense of self and confidence: power, beauty, movement, music, and achievement. Her presentation, which was part speech and part dance, inspired students.
"What I got out of it was that you should love yourself. You have to accept your differences from others, and accept yourself," junior Wendy Casmiro expressed. "You can become a very successful person if you believe in yourself," she explained.
Next on the program was a color wheel personality test activity meant to help participants better understand their strengths and weaknesses. This activity was followed by speaker Shannon Curry, a community advocate and lifestyle advocate, who explained that although social media can be beneficial, it can also poses a number of often unforeseen risks, such as privacy violations and  damage to self-esteem. The conference closed with a speech from Natalie McKinsey, founder of the Whole Woman, LLC, about how the mindful consideration of outwards appearance "separates a wise woman from a foolish one."
About the Contributor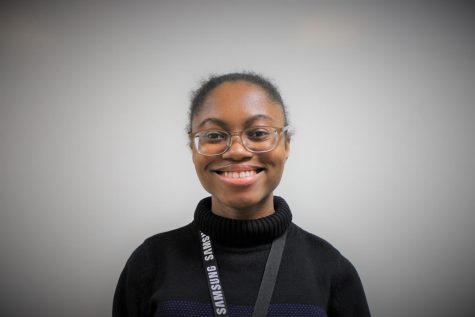 Lysa Legros, Editor and Senior Staff Reporter
Lysa Legros, a senior in the Law and Public Safety Academy, is the Editor of this year's Maroon Tribune after serving on the newspaper staff for two...