Unity in DECA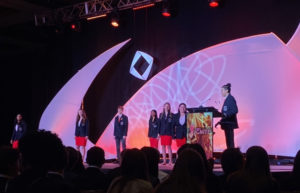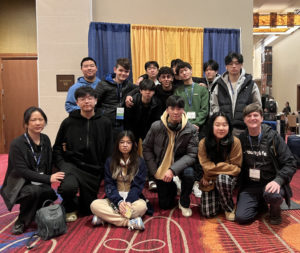 "
"We are strongest when we speak as one."
— ~DECA motto
"We are strongest when we speak as one."
This is the motto of the Distributive Education Clubs of America, or DECA for short. DECA is a worldwide student organization that focuses on business and finance-related fields. It is an integral club to DMHS. DECA's purpose is to prepare students and challenge them to find creative solutions in the real world. This year, the DMHS chapter spent three days in Atlantic City, New Jersey, to participate in a state competition that took place from February 27 to March 1. 
"Students gained experience in the career clusters of marketing, business management and administration, finance and hospitality and tourism," DECA advisor Lijun Tian commented. "Five students who won the regional competition participated in industry-validated competitive events," she shared.
Competitions require DECA members to unite and participate in role-playing exams. These exams are written scenarios given to each student, who must then provide a solution or a plan within ten minutes and present them to a judge. Competitions start locally and once a year, state competitions are offered. Hundreds of students gather in Atlantic City to compete and only a few are selected to win within their categories. Although the DMHS chapter did not win at any level, members still took home the experience of competing. Making it to the state finals is still a notable feat and a testament to how hard the members worked. 
"Attending the DECA state competition was a fantastic learning opportunity for everyone involved," junior Selina Liu shared. "Personally, I believe my peers and fellow underclassmen performed admirably, especially considering that it was the majority's first time competing," she expressed.
Through DECA, members have gained the knowledge and experience needed to navigate the business world and beyond, equipping them with lifelong skills. With these skills and talents, the DMHS chapter will work hard to prepare for next year's competitions.
"Even if you are not interested in business, I strongly recommend that you join DECA because it allows you to improve so many different skills including quick thinking, presentation skills, communication, teamwork, and problem solving," Selina concluded.