LEA Flower Project
"
We wanted to create an environment where the young women in our school community would not have to feel ashamed asking a teacher or the nurse for menstrual products
— Lady Empowerment Association Co-President Kayla Griffin
Why are essential feminine products considered luxury items when 800 million women worldwide are menstruating at any given time? Menstruation is often referred to as the key to life, yet period products are some of the most difficult items to procure, especially for low-income women. To solve this problem, members of the DMAE Lady Empowerment Association (LEA) were inspired to increase the accessibility of menstrual items at school through the creation of a Flower Project. On Tuesday, Dec. 6, 2022, the Sisterhood of Temple Sinai as well as the Community Chest donated menstrual products to be placed in all restrooms and locker rooms on campus. 
"We wanted to create an environment where the young women in our school community would not have to feel ashamed asking a teacher or the nurse for menstrual products," LEA Co-President and senior Kayla Griffin expressed.
During this past summer, LEA founder and Co-President Samma Faragalla worked closely with members of the Community Chest in order to plan out the Flower Project, a project that closely mirrors what the Red Cross club has done in the past. For this school year, LEA wanted to ensure menstrual products were in bathrooms rather than in designated classrooms, a decision made to eliminate any awkwardness that comes with discussing menstruation. 
Along with the baskets of menstrual items placed in bathrooms throughout DMAE, warning signs of Toxic Shock Syndrome (TSS) were also posted on the walls. This project is just one of the many ways LEA will continue to work to meet the needs of the underrepresented and amplify their voices when it comes to finding period products and basic hygiene items. In the future, members of LEA hope to expand their efforts beyond campus and remove the challenges many women face worldwide when it comes to managing their hygienic needs. Period products are a necessity, and LEA hopes to eliminate stigma associated with menstruation.
About the Writer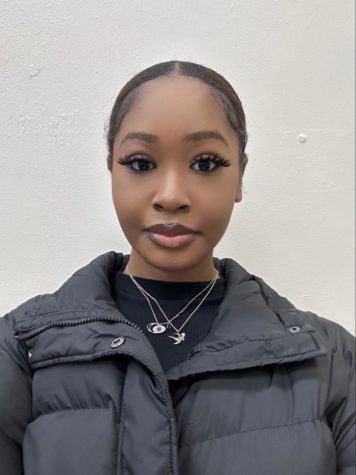 Samma Faragalla, Reporter
Hello! I'm Samma Faragalla, a senior in the Law and Public Safety Academy. I have been a reporter for Maroon Tribune for 3 years, mostly writing club...