Breakout Season For Boys Varsity Basketball
DMAE Raiders Make Play for States
 DMAE's Boys Varsity Basketball season started on December 20, 2019, with a sensational home game against Fort Lee. Though the Bridgemen were able to pull off a 24-point comeback in the fourth quarter, the Raiders, playing in front of perhaps one of the largest home crowds in recent years, won in this nail-biting game, 68-65. However, following the successful season last year, with then senior Owen Roberts as the star player and 1000+ point scorer, the basketball team had large shoes to fill.
Nevertheless, with that strong start to the season, the team got attention as an upcoming State tournament competitor, with a first round win in the Jingle Bells Holiday Tournament against East Orange High School. The Raiders also had a winning streak in Big North Conference play. 
This year's star player, senior Andres Fulgencio, is living up to expectations on and off the court.
"
When we saw that he was ranked in the state for threes, we knew he deserved every bit of credit he gets."
— Isiah Dolphy
He has been ranked as one of the top three-point shooters in all of New Jersey High School Basketball, and hopes to continue performing at the collegiate level. Currently, he has offers from multiple colleges, including Bloomfield College.
"The team was really excited when Andres got his offers, and when we saw that he was ranked in the state for threes, we knew he deserved every bit of credit he gets," starting center and senior captain of the team, Isiah Dolphy said.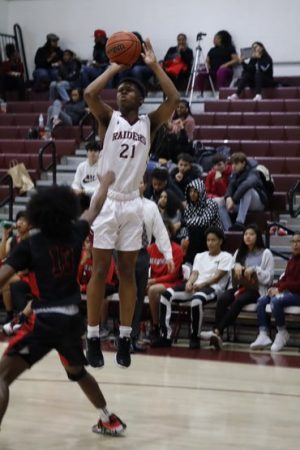 However, the team has  faced injuries, like that of junior and former starter, Christopher Dark, who didn't make a return to the court until mid-season. Luckily, Darius Butcher, a senior transfer, was a huge addition to the team, showing no trouble scoring or sparking a late-game comeback. Darius was a key factor in many close games.
"When the team found out Chris got hurt, we had no idea how the season would turn out, but our other players, especially Darius, stepped up and were the reason we won a lot of games," Andres said.
Despite a tough loss to Paramus Catholic in the second round of the Bergen County Jamboree, the Raiders hope to be an underdog upsetter in the State tournament. Recently, they won the section championship, after a blowout win against Bergenfield, with a score of 81-41.
Leo Jones, the head coach for his third year, believes the team has a chance at States.
"The 2020 season has been a somewhat successful season thus far. We have the highest group 3 State playoff seed since the mid 70's," Coach Jones explained.
The State tournament begins Monday, March 2, 2020, against Teaneck, and Coach Jones is hopeful for a win.
"Our guys have worked extremely hard throughout the year and I'm looking forward to having a nice run in the States to close out the year."