Bigger and Better Pep Rally
The annual DMAE Pep Rally was held on October 19, 2018, with the purpose of not only boosting the already famous Raider Pride, but also to provide an atmosphere of unity on campus.
"I was so excited to go to the Pep Rally this year; besides getting to build up all the sports team we have, it's a great opportunity to see everyone at school and really feel like a part of the DMAE community," sophomore Joey Liberti explained.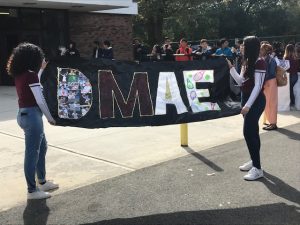 The event was held in the DMAE senior parking lot during eighth period and was organized after many meetings with administration by the DMAE Student Council advised by Danielle O'Shea. With great improvement from last year's Rally, students and teachers alike cheered loudly for Raider teams while swaying to the drumline performance.
"The whole parking lot was filled with this almost electric-feeling energy, and at that time and place we were not concerned with our grades, SAT scores, and social status. We, as a whole campus, were concerned with being the best Raiders we could be at the moment," senior Courtnie Beckford stated.
"
With the coaches hyping us up, you really can't help but feel motivated to do better than your best."
— Offensive Lineman Hector Lebron
Once everyone made it outside to the Pep Rally, Raider sports teams including tennis, volleyball, soccer, and football ran through their own customized and highly colorful banners, and up to the main stage. Once in front, and on their rightful place on stage, team coaches introduced their senior players to the student body while also spewing words of encouragement to their players.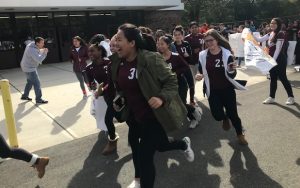 "This and every year, we always improve and get bigger and better. With the coaches hyping us up, you really can't help but feel motivated to do better than your best. I really think that this Pep Rally really lit a fire under us athletes and that we will play better now," junior and offensive line player Hector Lebron explained.
The DMAE cheerleaders made their own mark at the Pep Rally as well. In full uniform with pompoms flaring in synchronized movements, the cheerleaders not only held up the sports team banners, but held up the spirit of the student body.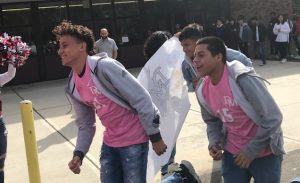 "As cheerleaders, it's really our job to make sure everyone is in the Raider spirit. So, we were putting our everything into getting students excited and involved in the rally, from doing our cheer routines to calling out to students and athletes. I really feel like the Pep Rally was a huge school spirit booster," junior and cheerleader Daniela Zafra stated.
From encouraging school spirit to supporting Raider teams, the 2018 DMAE Pep Rally was highly memorable.
About the Contributor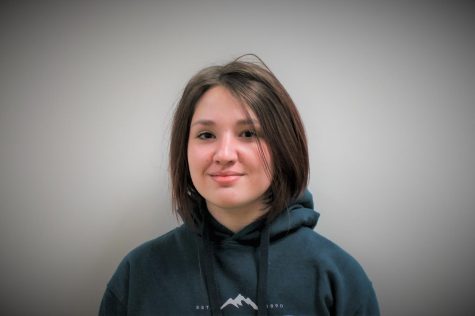 Julia Schwartz, Co-Editor
Julia Schwartz, a senior in the Biomedicine Academy, is a third-year writer and co-editor for The Maroon Tribune. She loves to write political and social...