Raiders Rise UP
"
Since my freshman year, we've been working endlessly so that things can come together, and Dwight Morrow can finally become a well-oiled machine that other teams fear when playing."
The start of Dwight Morrow Raiders 2017-2018  Football season was  stronger than ever. A 3-1 start is the best start in almost 20 years, and the boys accomplished this standing while playing formidable teams along the way. Even though there is still more to be accomplished, this start showed the strength of the heart of the team, seniors George Garrison, Andrew Jones, Quanzie Lumsden, and Malachi McFadden, known as the "core four." This core of captains is raising the team to a new level of competing in North Jersey.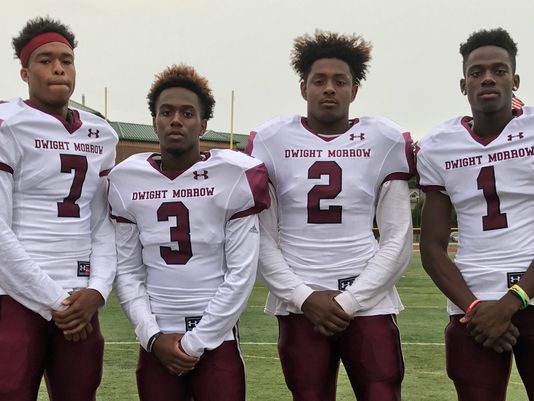 "Since my freshman year, we've been working endlessly so that things can come together, and Dwight Morrow can finally become a well oiled machine that other teams fear when playing,"  said junior tight end Jihad Edmond. "This year, I think it's finally coming true."
Even if the boys lost by a score of 28-6 against Paramus in a game that had controversial officiating, they had the chance to redeem themselves against a North Jersey powerhouse: Ramapo. Compared to last year, DM is beating opponents that they have frequently lost to in the past and are hard to compete with. For example, in the first three games, they dominated and  outscored opponents by approximately 24 points a win.
Much of the success the Raiders have had so far is owed to wide receiver Quanzie Lumsden, who northjersey.com called "the most exciting high school football player in New Jersey."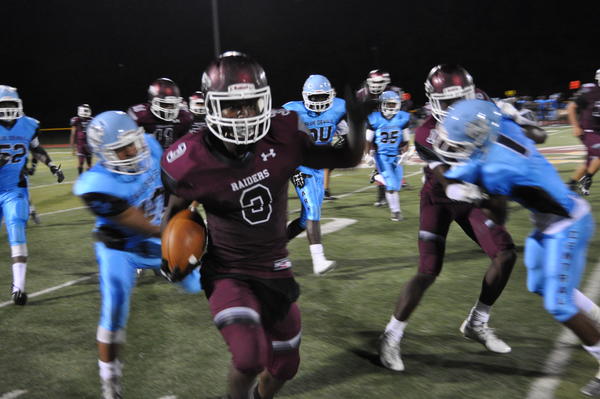 Against Tenafly alone he scored three touchdowns, but impressively, none were on offense. Quanzie scored on a 93-yard interception return, a 67-yard punt return, and an 83-yard kickoff return.
"Some of Quanzie's runs were insane," Malachi said. "But I've been friends with him for years, so I'm used to it."
Malachi himself scored two offensive touchdowns, and one on a 67 yard kick return that he took to the house.
If the seniors continue to play at this high level and the rest of the team contributes, DM could see a state championship for the first time in recent memory. Hopefully for the senior core and the rest of Englewood, that is the case.