Englewood Idol and Diversity Day Live
End School Year on High Note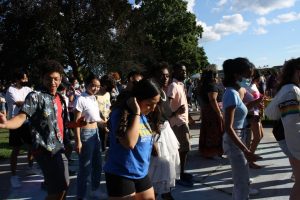 On Tuesday June 15, 2021, one of the grandest performing arts competitions Englewood and the DMAE community have ever seen took place outside at Depot Square in Englewood, NJ. It was the Englewood Idol Finals and Diversity Day. It was an undeniably grand finale and assembly of students in great contrast to the year of pandemic isolation and remote learning. Englewood Idol Finals and Diversity Day performances were rolled into one giant evening (with food) from 5:00-8:00 pm under the direction of organizer Judy Aronson, and it felt like a celebration of life, not just a fun show of the talents of Englewood students. However, the talent was abundant.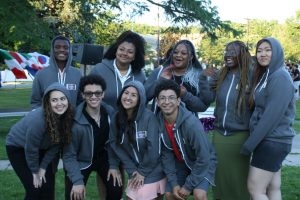 Idol Finals spotlighted the performances of the nine finalists from previously held competitions and opened with a performance by the 2019 Englewood Idol Genesis Capellan. Six singers were from DMAE and three from other schools, but all with a connection to Englewood. Performers energetically took over the outdoor stage with each song cover. 
Seniors Sienna Tu and Kiana Ong were capable and enthusiastic executive producers of the show. 
"I enjoy putting events together and I loved doing Idol. I learned the importance of delegating tasks and teamwork from Ms. Aronson," Sienna said.
They were joined by musical producer senior Alex Ha who said he had a great time working on Idol this year.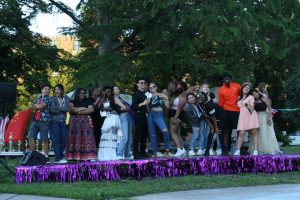 The event was hosted by senior Emcee Janae Wilson. Five judges took on the difficult task of selecting a winner: Florian Bellanger, star of the show "Cupcake Wars"; Catherine Melendez, from the City Manager's office; and three DMAE alumni, Victoria Banton Pulley from the City's Rec Department, performance artist Joshua Castillo, and the 2016 Englewood Idol, Omarr Kaba. 
First to hop up and take command of the Englewood Idol stage was eighth grader Luis Figueroa from Saint Joseph Catholic School in Oradell, NJ. Also a student at Englewood's Bergen Performing Arts School, Luis began performing just two years before he took the Idol stage to sing and dance the salsa.
Next was DMAE senior Tiffany Moon. She loves all music genres and also sings acapella. 
"
Music truly transformed me into the best version of myself. Singing and performing make me my happiest."
— Tiffany Moon
"Music truly transformed me into the best version of myself. Singing and performing make me my happiest," Tiffany explained.
DMAE junior Imina Adonri sang her heart out next in the song "Home," followed by freshman Charli Coward, who said she just loves singing.
After a short break during where the crowd took over the dance area,  junior Jarret McKinney of Elmwood Park Memorial High School took the stage. Jarret, who attends church in Englewood with his family, loves R&B and pop, and is proud to write music.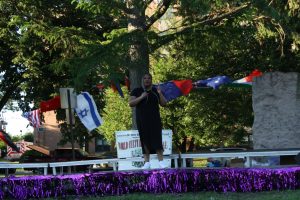 "Music and performing have helped me discover a new ability I never knew I had: writing lyrics," Jarret said.
Next up was DMAE junior Shakira Hunt who became this year's Idol. She said her biggest inspiration is Jessie Reyez, especially the song, "Do You Love Her."
"
I was so excited to be part of one of the most talented groups of people I have ever seen and to be in Englewood Idol this year."
— Shakira Hunt
"I was so excited to be part of one of the most talented groups of people I have ever seen and to be in Englewood Idol this year," Shakira said. 
Her performance was followed by one that was equally vigorous. DMAE junior Angie Munoz took the stage and ultimately became the first runner up to Shakira. She told of how music means so much to her.
"I believe music has changed my life. It is my coping mechanism whenever I'm struggling or in a dark place," Angie explained. "Music has also helped me create everlasting bonds with people," she added.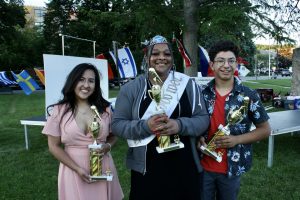 After Angie, senior Joey Liberti confidently commanded the stage. Joey loves all musical genres and said he can't wait to attend The American Musical and Dramatic Academy in NY. Joey was second runner up in this 2021 Idol competition.
Last was senior Hannah Dubroff, an Englewood resident who attends Ramaz Upper School in New York. She sang an unforgettable cover of "Girl on Fire."
Who would have thought this day of being together for a friendly competition would have been possible a few months ago?
DIVERSITY DAY
The Diversity Day dances were performed right in front of the Idol stage on a good-sized concrete slab with enough room to move around as if on a real stage. The concrete also featured a large world map drawn by talented Arts Honor Society members overseen by Mauricio Rodriguez. There were four dances: Korean KPOP, Filipino, Indian and African-American.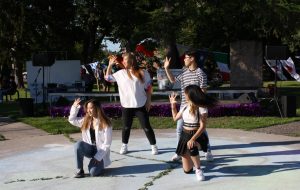 KPOP dancers kicked off, literally, the dances. Senior Tiffany Moon, junior Flora Cho, and sophomores Olivia Hong and Eric Kim had well-choreographed moves that showed how they love dancing KPOP because it is so lively and fun.
The Filipino dancers were juniors Sharlene Bergantino, Jarelle Daag, Mia Madonna, and sophomore Hannah Ferrer.
Traditionally the Indian Dance at Diversity Day is huge, but this year saw just five dedicated senior dancers: Tenzin Dhasel, Dimple Kangriwala, Karina Nirmal, Khushi Panchal and Krisna Panchal. Their outstanding performance mesmerized the crowd. All said how much they love the cultural connection they feel when dancing the Indian Dance.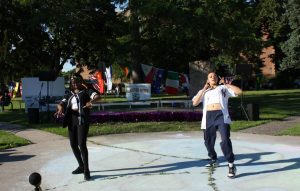 Next was the African-American Dance by seniors Jayla Ebanks and Samantha Whilby. The energy of their last performance together lit up the park.
No one was disappointed in the day's events. Ms. Aronson was thrilled.
"Today was so special for a number of reasons, but most exciting is that it gave us the opportunity to meet our kids, many for the first time!" Ms. Aronson said. "And there were plenty of friendly adult faces," she added.
She thanked the teacher volunteers who served as chaperones and gave shout outs to the singers, the dancers, the producers and the many other staff members from videographers and editors to tech crew, art team and webmasters.
She also gave special thanks to the City of Englewood, Mayor Michael Wildes, and Councilman Charles Cobb for giving the students the opportunity to hold this event.
VIRTUAL JUNIOR/SENIOR IDOL
Before the grand finale at Depot Square, the DMAE Dr. John Greico Scholarship Fund hosted two virtual events that featured many aspiring performing artists from the younger grades all the way up to high school. These professional productions were edited by Cole Rosenthal and Lorenzo Consales, along with Tsean Mattoo, Malaika Menezes, and Joanne Kwon: Virtual Junior Idol premiered on  May 29 and Virtual Senior Idol on June 5. The filming took place at the Bergen Performing Arts Center and were broadcast on YouTube. The many contestants performed a variety of acts filled with energy and passion and these events were the first installment of the 2020-2021 Englewood Idol bonanza. 
The Englewood Idol and Diversity Day events took many months of dedication and hard work. Teachers and students did everything possible to make these grand virtual and in-person experiences. These students and volunteers put countless hours into hosting and producing the activities. 
"
I so admire these students and their courage and determination. They inspired me to push through every obstacle."
— Judy Aronson
"I so admire their courage and determination," Ms. Aronson said. "They inspired me to push through every obstacle, and believe me there were many. These students are the reason we could end the school year on such a high note."
About the Contributors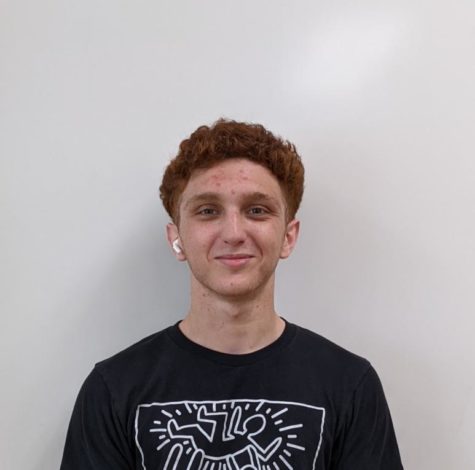 Shahem Albean, Sports Reporter
Shahem Albean is a senior in the Law and Public Safety Academy at Dwight Morrow High School. This is his third year writing for The Maroon Tribune and...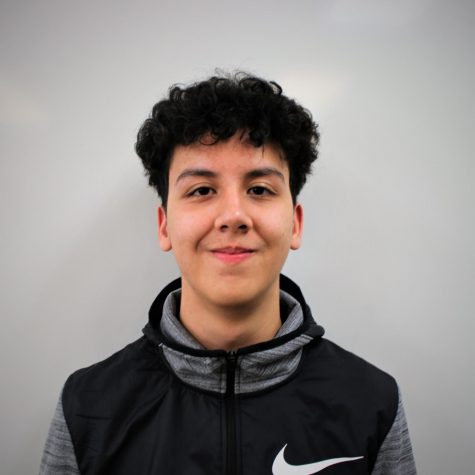 Alejandro Jaramillo, Staff Reporter
Alejandro Jaramillo, a sophomore in the Biomedicine Academy, is a first year writer of The Maroon Tribune. He enjoys playing sports and often plays video...