Senior Paint Night Raised Money and Lowered Stress
On Thursday, Jan. 14, 2021, DMAE seniors had much fun taking part in a paint night fundraiser that allowed them to paint in a relaxing environment. Arranged by Art Teacher Grace Frangiosa, many DMAE seniors, staff, teachers and their families, all gathered on zoom to paint and socialize.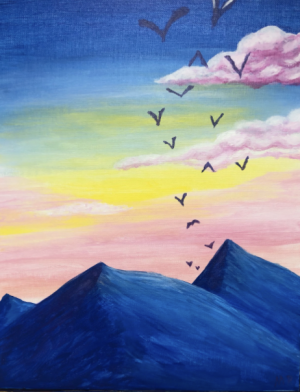 "I believe that the Senior Class Paint Night Fundraiser was a huge success. It was so nice to see students, teachers, and their families bond in such a fun and relaxing way," Ms. Frangiosa said. 
The Paint Night was successful in raising funds for the senior class as the event attracted the interests of not only students but parents and siblings as well. Approximately 30 people participated. They signed up and paid for supplies as well as the fundraiser donation fee. Students paid $15 and adults $25. Painting kits included the canvas and two brushes, paints and even a small snack. The event raised approximately $800 for the DMAE senior class.
"The Senior Paint Night was so much fun! It was really interesting and entertaining to see all the teachers being regular people with their children and family. Ms. Frangiosa did a great job teaching us how to paint such a beautiful painting, I felt like Bob Ross!" senior Caroline Lee said. 
Participants found enjoyment in the Paint Night, regardless of their talents or skills in painting. They learned about the rule of thirds, color palettes and more as they painted mountains, a horizon and birds in flight.
"
I got to learn some cool tricks when it comes to painting that I can't wait to try when I paint again."
— Anna Kasprzak
"I got to learn some cool tricks when it comes to painting that I can't wait to try when I paint again. If we ever do a similar fundraiser, I would definitely participate," senior Anna Kasprzak said.
One painting trick described by Ms. Frangiosa is a wet blend.
"When you overlap a portion of two colors while the paint is wet you can blend them together resulting in a slowly transitioned ombre effect," Ms. Frangiosa described.
The senior class plans to hold additional fundraisers like this one and seniors are excited to participate.
"Doing it on Zoom was a little bit different but it all worked out just great. It was also fun to see so many students and children involved this time," math teacher Dorothy McClelland said. "I highly highly recommend this for everybody, especially if you are feeling some stress!" she added.
About the Contributor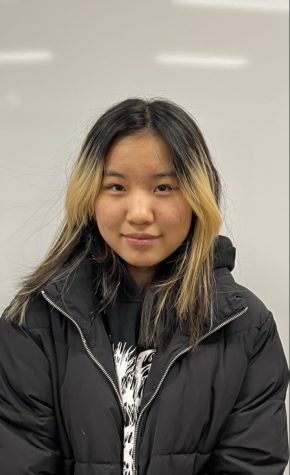 Lois Kim, Managing Editor
Lois Kim is a junior in the Law and Public Safety Academy and is a third-year reporter for The Maroon Tribune. She plays for the DMAE tennis team and enjoys...