NHS Brings Back DMAE Blood Drive
Restrictions Bar Some Students from Donating
"
I learned that one pint of blood can save up to three lives, which is kind of spectacular in my eyes."
— Selvin Jacob
The thought of donating blood can be frightening but dozens of DMAE students put their fears aside on Wednesday, June 7, 2018, and charitably donated blood. The Blood Drive was sponsored by the DMAE National Honors Society (NHS) and approximately 70 students and teachers went to the Common Area and offered up their arms to give blood.
"During the Blood Drive, I learned that one pint of blood can save up to three lives, which is kind of spectacular in my eyes," senior Selvin Jacob said. "You only need to do so little to reach out to a greater cause."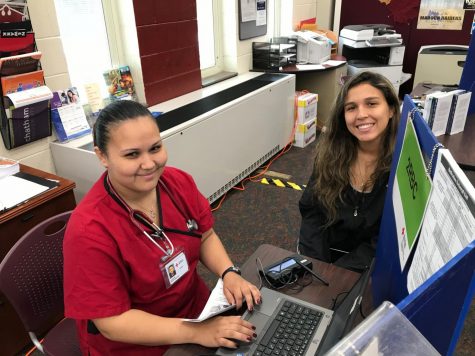 National Honors Society adviser Dorothy McClelland organized the event and NHS members helped sign up and process donors. Each approved donor gave approximately one pint of blood to the cause, with  35 pints of blood collected for the American Red Cross.
"I was so proud of our students," Ms. McClelland said. "Everyone had a great attitude and spirit and because of this the event was a great success."
However, some students were not eligible to give blood. Donors had to be 16 years old or older and weigh at least 120 pounds. If tattooed, the donor needed to have gotten the tattoo at a certified New Jersey establishment. A donor could not have traveled to the Dominican Republic, Columbia, England, or Mexico in the past six months, nor be a sexually active homosexual male or what the American Red Cross calls MSM (men who have sex with men).
This last restriction sparked controversy this year as some gay male students at DMAE wanted to donate blood and felt that this restriction was outdated. Senior Michael Tavaglione tried to fight the ban by creating public awareness of the American Red Cross MSM restriction with posters that he and others put up all over campus.
"It's upsetting that the ban still exists," Michael said. "I know it's out of the reach of the Red Cross as it's a federal law, but it's extremely outdated for this time period and needs to be changed," he added.
Despite the limitations, Ms. Mcclelland, who brought the once bi-annual Blood Drive back to DMAE this year, was grateful to those who participated (and to the ones who wanted to participate) and hopes to make the Blood Drive an NHS annual event.
About the Contributor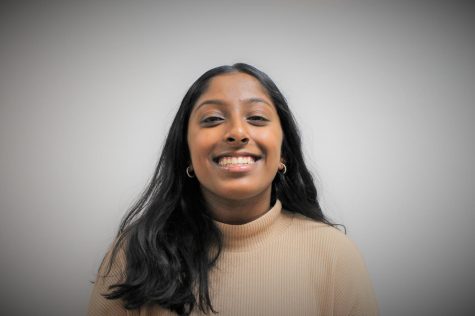 Seleena Jacob, Managing Editor and Senior Staff Reporter
Seleena Jacob, a second-year member of The Maroon Tribune, is a junior in the Law and Public Safety Academy at the [email protected]. She is a member...