Model UN Team Wins Top Awards at NYU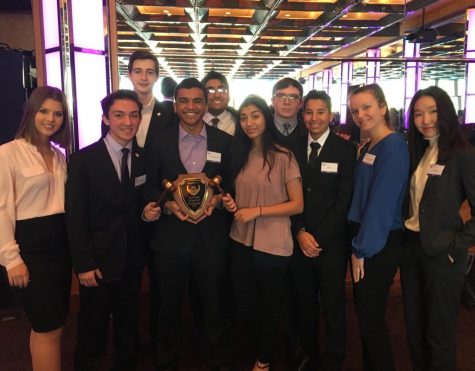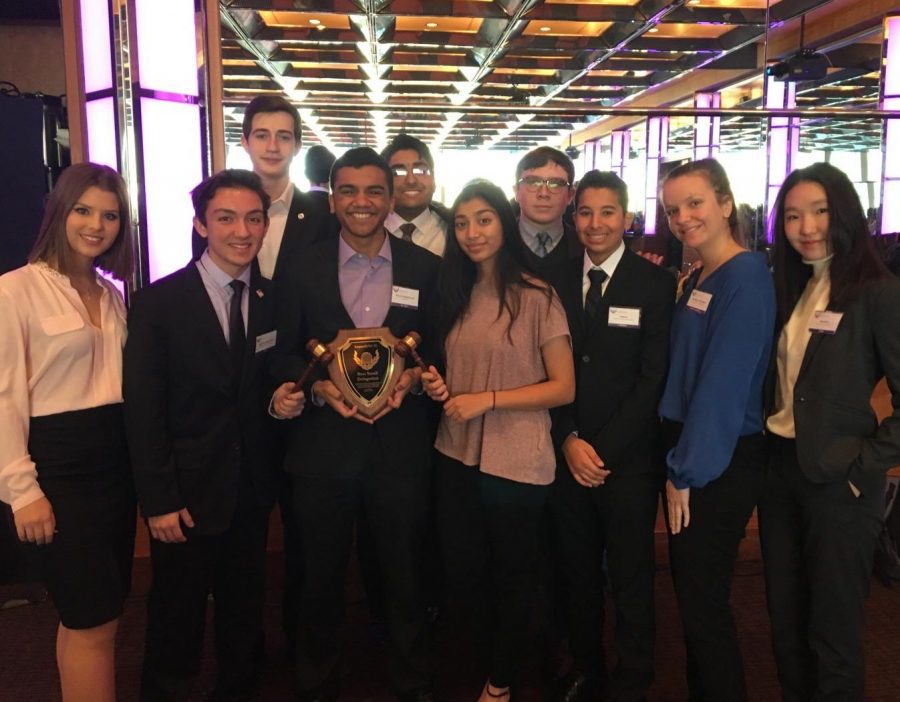 The DMAE Model UN team served up more success at the New York University conference where students debated world topics with other highly competitive teams from around the country.
Club co-advisor and history teacher John Cirilli expressed his gratitude to the students.
"I think many students were a bit taken aback by the level of competition. There were schools from Texas and California competing. However, they persevered and took home awards," he said.
As model United Nations delegates, students represent a certain group of people, world government, or even an actual person. The main aspect of the activity is to think like someone else and work towards creating an agreement for the betterment of society. Co-Secretary General of the DMAE team and senior Kyle Castillo described what the complexity of the debates.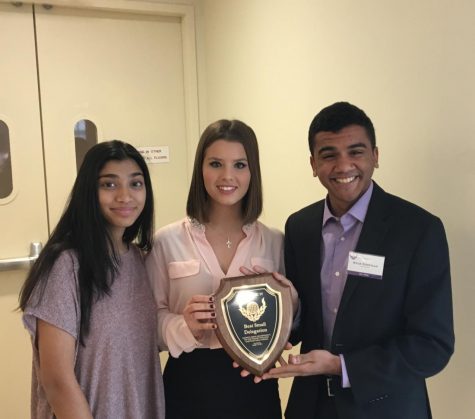 "My committee was given the world's most pressing issues, world starvation, colonization of other planets, and AI. It was a great deal of fun," he said.
The committees ranged from real UN committees, such as Security Council, and Disarmament, to fictional crisis committees such as James Bond Spectre and M16. Co-Secretary General and senior Nicole Matsanov was a spy in M16 and, as she noted, "a lot of fun to act out."
The DMAE team took home four significant awards. Juniors Matt Stoeski and Soubia Hassan won the award for Best Delegate in their committees, junior Nicholas Cella won an Honorable Mention, and the entire team took home the award for Best Small Delegation.
"I feel the students did a fantastic job. To take home Best Small Delegation at a major college conference shows our team commitment," Mr. Cirilli said.
Nicole was pleased that some newcomers had competed because it was a good way "to get experience without going away for the entire weekend" like in other competitions.
"We had quite a few people attending their first conference who seemed to learn a lot and improve," co-advisor Mindy Rochman agreed.
One new member was freshman Yusuf Abu-Hakmeh, and the conference at NYU was his very first competitive Model UN experience.
"I really sensed a much more competitive mindset amongst all delegates and that was something new to me. As my first conference, it definitely added to my love for debating and convinced me to keep at it," Yusuf said. "This experience has taught me a lot about Model UN as a whole, and I will continue to go to conferences and improve my debating skills for many times to come," he said.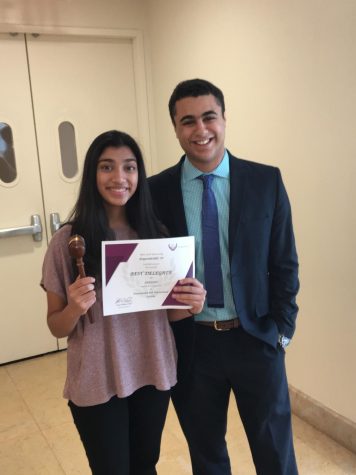 The Club plans to compete in more conferences this year, including at the University of Delaware. It also hopes to attend some smaller conferences in Central Jersey and Hackensack.
"I am very proud of what the club has become. The legacy that veterans will be leaving will be carried on by new members, and I couldn't be happier about it," Nicole expressed. "The new members are the ones who will continue to debate, and who will take Model UN to unforeseen heights," she added.