"Ain't No Mountain High Enough" to Stop Englewood's Popular Idol Contest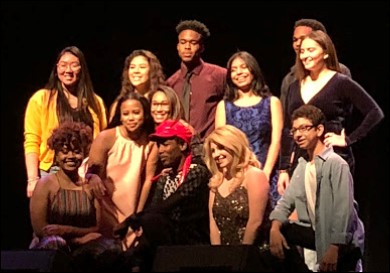 The Dr. John Grieco Scholarship Fund held the 15th annual Englewood Idol competition on January 18, 2018, at the Bergen Performing Arts Center. The Idol event has been a tradition close to the hearts of Englewood students and their families since its beginning, and despite many unforeseen obstacles to its production, at 7:00 p.m. on Thursday, the community gathered to watch and support young student musicians on stage.
The contestants of this year's Idol included 12 semi-finalists who passed a competitive audition: seniors Diondra Curtis, Sarah Dubon, Le'Keil Herring, Andrew Jones, Alexis Oliver, and Dierdre Riggsbee, juniors Gabriela Arango and Patricia Parker, sophomore Zion McGill, and freshmen Joseph Liberti and Tiffany Moon all from DMAE, as well as senior Lily Waxman from Dwight-Englewood.
"Overall, Englewood Idol is one of those events that ALL the students look forward to each year. This year, it was the best it's ever been," senior Kyle Castillo noted. "I thought the performances were the most passionate I've seen in Idol history. You could tell that the students put a lot of heart and soul into their art," he added thoughtfully.
Five contestants, perhaps the most passionate of singers, made it to the final round to sing again: Alexis, who sang "You Know I'm No Good" by Amy Winehouse; Joey, who gave a memorable performance of "Memory" from CATS; Diondra with a heartfelt cover of "I'm Here" from The Color Purple;  Gabriela with the song "Warrior" by Demi Lovato well-suited to her voice; and Patricia with her thoughtful rendition of "Love in the Dark" by Adele. After a deliberation among the judges and voting from the audience, Patricia placed third, Diondra came in second, and Gabriela was crowned the 2018 Englewood Idol.
Gabriela later said that the whole experience was uplifting for her. She explained how it gave her courage and a sense of belonging.
"It was empowering. I was just happy I got to be there to see it all unfold; all the extra hours of rehearsal in the auditorium, caroling, and presenting in front of another school took courage, effort and love for the craft itself," Gabi explained. "From day one, we treated each other with so much love and support. It's safe to say I got a second family out of the experience. Winning was a plus," she added genuinely.
While the event was as exciting as ever, in order to provide a night full of excitement and entertainment for the Englewood community, the planning was critical and it required manpower, scheduling, and rehearsals. But there were obstacles to them all this year making the production of the event even more impressive. One obstacle was this year's school schedule change that terminated DMAE's traditional 9th period electives and Thursday clubs. This created a huge problem in manpower for the preparation of the show. Instead of a full elective class of students and full club of students, producer Judy Aronson had a team of just five willing and determined seniors to keep the tradition in place: Jasmine Brims, Kaya Karibi-Whyte, Alexis Oliver, Gisselly Peralta and Eiman Rauf.
"We lost our Dr. John Grieco club which was about 20-25 kids, and Diversity elective which was another 20-25 kids," Ms. Aronson said. "I had my core group of five students."
Not only was the planning hindered by a lack of student staff, but for two months of preparation, the team and contestants were denied access to the basic production technology found in the auditorium.  In order to have full access to the school equipment, the administration required that the Scholarship Fund pay district technicians on an hourly basis to be present during rehearsals.
"We didn't have use of the auditorium with microphones and lights until the first week of December," Ms. Aronson said. "Auditions were held in the beginning of October," she said.
Finalist Alexis worked both behind the scenes and on stage. While organizing fundraisers and making flyers, she was also preparing to perform.
"Commitment was a huge part of being able to put on a good show, so putting in the hours was crucial for the show," said Alexis about her dual role. "I got to spend time with my friends and meet new people I wouldn't have known otherwise. I also got a lot of good advice regarding my singing and became way more comfortable on stage," she added.
Ms. Aronson and her team of five seniors worked tirelessly to ensure the success of the evening, and provided the Englewood community with another opportunity to feel proud.
About the Contributors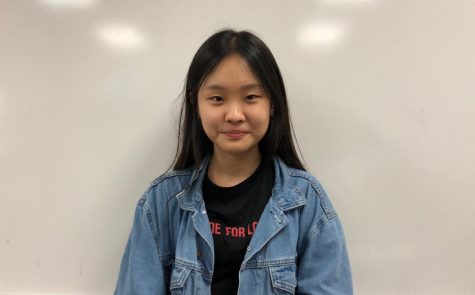 Kristin Kweon, Managing Editor
Kristin Kweon, a third year member of the Maroon Tribune, is a senior in the Law and Public Safety Academy and is this year's Managing Editor. Journalism...
Leticia Wood, Editor
Leticia Wood, a senior in the Pre-Engineering Academy, is the Editor of this year's Maroon Tribune. She enjoys having a diverse set of extracurricular...