Science Fair Teaches Trial and Error
After seven long months of research and collaboration, students in the Experimental Design elective displayed their science projects in the DMAE Common Area on March 3, 2016, at the Science Fair. Biomedicine Academy sophomores stood proudly next to their tri-fold boards and expressed their findings to their peers, visitors, and judges like smooth-talking salesmen.
"The Science Fair encourages excellence by giving students the opportunity to actively showcase weeks of extensive hard work," explained Crystal Ponticello, Biomedicine Academy program manager and organizer of the Science Fair. "Overall, this year's science fair was a success. The students worked really hard and it was evident through the fair," Dr. Ponticello added.
These projects proved that hard work pays off. First place winners Tomomi Shore and George James studied the effect of Wifi radiation on pesky 9-15 mm flatworms that can regrow body parts. Second place winners Niki Trivedi and Nobuyo Watanabe had to restart their experiment on the effects of food additives on bacteria at one point, and third place win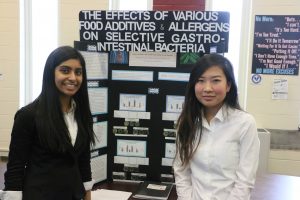 ners Alexa Gomez and Caitlin Russotti dealt with plentiful reproduction in a species of roundworms. Finally, Honorable Mention winners Debbie Adam and Kaya Karibi-Whyte worked long hours to discover the effects of stimulants on blackworms. All of these winners presented their projects to a large audience at NJRSF held at Rutgers University on March 11-12, 2016.
Students began thinking of their research topics in the summer. However, choosing the topic was the easy part. In addition to conducting the actual experiment, students had to create a poster board and PowerPoint and write a 25-page essay. Although stress was an inevitable component of the project, many felt satisfied with their results.
"We learned not to procrastinate," sophomore Daniela Gurski said. "The manuscript, PowerPoint, and experiment were very time-consuming but we enjoyed the actual project itself. We could have modified some of our project, but overall we are happy with the final end result."
Sophomores Niki Trivedi and Nobuyo Watanabe also breathed a sigh of relief once the final days leading up to the science fair ended. They experienced a tough time with their project, but their efforts paid off when they came in second place.
"This project was stressful but I enjoyed the research so this might impact my future in a good way." Niki said. "We learned to do a lot of things we didn't think we would ever learn."
Besides the research process, students found the fair itself a helpful learning experience.
"While working on this project we got this new independence which made us feel like we were actual scientists," said sophomore Alex Dachenko. "Also, we liked how our information can be used in the long term and can pertain to humans," added partner Rhadika Shah.
There were also some changes to this year's Science Fair compared  to last year's.
"Each year I try to build upon the Science Fair from the year before," Dr. Ponticello explained.  "This year we used the whole common area rather than one side of it so that each of the projects could be displayed and there would be enough room to walk around."
Next year's Experimental Design students can anticipate more time to get it all done due to the anticipated change in schedule. Next year they will be able to work on the project for five days a week for one semester, giving them an upper hand to complete the projects.
About the Contributor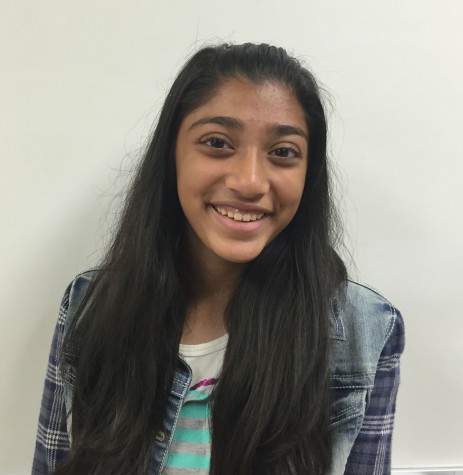 Soubia Hasan, Staff Reporter
Soubia Hasan is currently a freshman in the BioMedicine Academy. She is a member of DMAE's Model UN, HOSA, and UNICEF clubs. She has a passion for softball...