Kravitz Promises High Goals in District Speech
Faculty members, parents, and students alike packed the Dizzy Gillespie Auditorium in hopes of learning what changes they should expect in the following school year that would fix DMA
E's multiplying problems. Englewood's new superintendent Robert Kravitz presented an outline of his many-sided plans for the Englewood public schools in his "State of the District" presentation on Feb. 24, 2016. The purpose of the address was not only to introduce the problems of the Englewood district and possible solutions, but also to serve as a stronger medium for Superintendent Mr. Kravitz's debut to the Englewood community.
"This is a community," said Mr. Kravitz. "That's what I call the triangle, coming together for a common purpose and that's kids. What better thing to come together for than kids?"
The focus areas of the presentation were finances, personnel, facilities, and the Academics at Englewood public school, with academics being the main focus. Mr. Kravitz began the presentation by showing the district's Quality Single Accountability Continuum (QSAC) . These are scores that serve as the Department of Education's way to monitor and evaluate public school districts. DMAE's score for instruction and programs dropped from 39% in 2014 to 18%. Mr. Kravitz attributed the bad QSAC scores to unaligned curriculum and poor scheduling, planning, and implementation. But QSAC scores aren't the only ones that need improvement. Recent PARCC scores are not much better.
"Our PARCC scores are the real state of the school," Mr. Kravitz explained. "We have the assessments we give our children and the scoring that we are being given by the state of where we are. Ladies and gentleman, teachers, administrators, and everyone who is here tonight, this is a problem."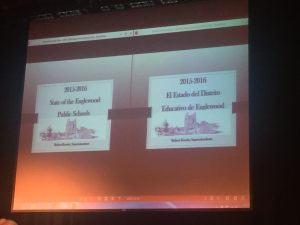 The DM PARCC math scores were very low. Only 4% of DM students met or exceeded expectations in Algebra I and Geometry, and only 8% in Algebra II. For AE students, however, the numbers vary greatly, with 36% meeting or exceeded expectations in Algebra I, 30% in Geometry, and 40% in Algebra II.
The language arts scores of DMAE showed a similar trend. In DM, 24% in the ninth grade, 14% in the tenth grade, and 34% in the eleventh grade met or exceeded expectations, while AE students scored 88% in the ninth grade, 82% in the tenth grade, and 88% in the eleventh grade. AE students scored higher than the state average in the language arts section of the PARCC exam.
Mr. Kravitz went on to describe the low graduation rate plaguing the district. Only 53% of DM seniors will be able to graduate without alternative assessments this year, while 100% of AE seniors will graduate, bringing the overall graduation rate of DMAE to 76%.
"As of now, we have an issue going on, I want to be clear and I want everyone to know it," Mr. Kravitz said. "To really drive this home,  I wanted to show a comparison. Paterson's graduation rate in 78%."
Mr. Kravitz additionally suggested creating relationships with higher-level institutions such as Fairleigh Dickinson University and Rutgers University to strengthen the electives available on campus. One of his long term goals is to give DMAE students the opportunity to gain 15-30 college credits before graduation. Mr. Kravitz also hopes to eventually implement pathway programs in DM to place students in specific cohorts of different subjects such as Social Services and Education, similar to the way the AE program is structured.
"Maybe they don't want to go to college, that's fine, but let's educate them as if they're prepared because they deserve it," said Mr. Kravitz. "Everyone deserves it," he said.
Furthermore, Mr. Kravitz hopes to provide SAT tutoring for DMAE, increase the graduation rate by 25%, and increase enrollment of Englewood students in the AE program.
Mr. Kravitz ended the presentation with a Dr. Martin Luther King Jr. quote and welcomed the receptive audience to write down any questions they had on an index cards. Though there were only a few students present, they, along with Mr. Kravitz and the rest of the audience, remain optimistic.
"If Mr. Kravitz  takes into consideration the student body, then his goals will be accomplished more easily," sophomore Giselly Peralta said. "He seems very passionate about his plans and we can helping him accomplish his goals," she said.
About the Contributor
Leticia Wood, Editor
Leticia Wood, a senior in the Pre-Engineering Academy, is the Editor of this year's Maroon Tribune. She enjoys having a diverse set of extracurricular...