DMAE Recalls 9/11
Skits and Songs of Strength
It was a somber beginning to the school year. On the first Friday of school, September 11, 2015, students filed into the Dizzy Gillespie Auditorium to commemorate the 9/11 tragedy. Students of Ms. Aronson's Diversity Day performed a skit and showed videos to help classmates remember both the devastation that struck the country that day and the unity that followed.
"Each year I feel like I grow to think about it more and more because I was only one when it happened. I feel like I learned a little more about it and started talking to my dad," sophomore Nicole Matsanov said.
Spread out all across the auditorium were American flags and other patriotic banners made of red, white, and blue paper links. The assembly began traditionally with the formal entrance of an honor guard made up of students with EMT, fire, or military training. This year, the guard included seniors Eliana Betancourt,  Daewon Lee, Seungchul Lee, and alumni Parth Shah. Three students led the audience in singing the national anthem and all pledged allegiance to the flag.
Besides the assembly's focus on unity, the assembly also highlighted a large problem that has resulted from the terrorist attacks: islamophobia. Islamophobia is the dislike or fear of Muslims, and after 9/11, this prejudice escalated.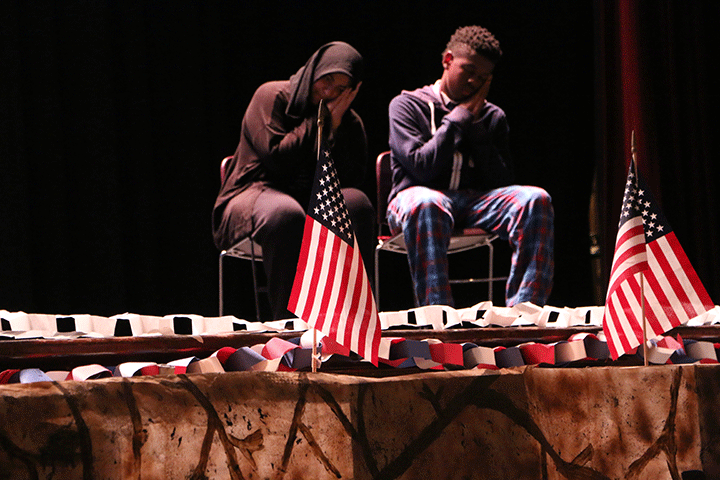 According to the FBI's Hate Crime Statistics, anti-Islamic incidents were the second least reported hate crimes prior to 9/11, but following 9/11, they became the second highest reported among all religion-bias incidents. In a school with such a diverse community as DMAE, assembly organizers  felt the need  to explain the growing problem. Students of the Diversity Day class, therefore, showed a video of an experiment that documented prejudice against women wearing hijabs.
"The fact that it was addressed in this year's assembly was a great step forward in educating us about some of the challenges that innocent Islamic people have to face." junior Sakshi Dadlani said.
Apart from such serious  subject matter, much of this year's assembly had a lighter touch and promoted a general theme of moving forward.
"As you can see, this assembly is all about how precious life is," said sophomore Eiman Rauf. "It is about recognizing the value of everyone in our midst."
For next year's assembly, the Diversity Day class plans  to create a time capsule for the 15th anniversary of 9/11. Students will be hearing announcements throughout the year to tell their stories of September 11th and life in this era.
About the Contributor
Melody Magly, Staff Reporter and Columnist
Melody Magly, who is currently a junior in the Law and Public Safety Academy, is a first year writer on The Maroon Tribune.  She created the new column...