2015 Diversity Day Lost Some Magic
On the DMAE campus, Diversity Day is a sacred tradition. While it may just look like a bunch of dance performances, videos, and skits, followed by a World Cultures Festival in the gym, students know that it is more than that. The fun-filled day is a time not only to celebrate DMAE's cultural diversity, but also to display campus unity. That's why this year's rushed and somewhat disappointing Diversity Day on June 12, 2015, left a dissatisfied feeling for many students who expected another spectacular show.
"In general, I thought Diversity Day was a mess this year," junior Radha Tummulapenta said. "Performances were cut off, microphones weren't working, and everything was disorderly. Also, the fact that the event happened so late in the year made many performers procrastinate until the last minute," she said.
Although it wasn't the first time Diversity Day has been held in June rather than April or May, it was the latest June date and certainly impacted the quality of the show this year. With many students caught up in field trips, overwhelmed with final projects, studying for finals, or already checked out for summer, this June show meant that some performers were cramming in practice time. While this was not true for the spotlighted Indian group that had begun preparing months in advance, it was for the Filipino group that pulled together its dance just a few days before the event.
"We honestly had no idea whether we were going to perform or not," junior and Filipino Dance performer Roman Bellanger explained. "It was the kind of situation where the Filipinos had no dance ready during rehearsals but suddenly came together in a few days."
In addition, this year's Diversity Day assemblies were shorter making it hard to fit in all the acts. Both the Freshman-Sophomore and Junior-Senior assemblies experienced time constraints that led to shortened performances and angry students. In the Freshman-Sophomore assembly, the show cued relatively well, however, the administration did not allow it to go over the allotted time and cut off the last two performances, the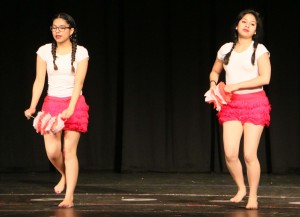 Filipino and Indian Dance. Traditionally, the Indian Dance is last as the showcased performance and when it was cut, students were angry and disappointed.
"It was really unfair to be cut off during the first assembly because we all worked hard for many months," sophomore and Indian Dance performer Neha Kumrah said. "We put in a lot of time and effort and it seemed as if the administration didn't respect that."
While the decision to shorten the Freshman-Sophomore assembly was on the spot, teacher Judy Aronson, producer of Diversity Day, noted that a lack of time in general to show all the performances made for different assemblies in the morning and afternoon. In the morning, freshmen and sophomores were able to see the Reggaeton, Puerto Rican Salsa, and the Peruvian Dance. In the afternoon, those performances were replaced with Nyame Ama, Latin Dance Mix, and Ramsey & Asjia's spoken word. Both assemblies, nonetheless, were able to see the R.E.A.L. skit on racial profiling, a PSA video on sexual violence awareness, the popular hip hop dance led by senior Jesus Acevedo, the Chinese Showcase featuring ribbon and lion dancing, and the KPOP Dance.
"A lot of students had very important issues that they wanted to use Diversity Day as a forum to express," Ms. Aronson said. "The fact that the show gave them that makes me happy."
Ms. Aronson, furthermore, argued that many of the issues that arose in this year's Diversity Day could be resolved with administration support. Instead of two-period assemblies, she suggested that Diversity Day be turned into an all-day event similar to Teen Arts.
"Moving forward, I would love to consider coming up with another model for how Diversity Day could work," Ms. Aronson explained. "If the assembly is so big and so many students on campus are involved in it, maybe we can incorporate World Cultures Festival into the day instead of after school and have interesting activities for each grade. Also, students can have options on which assemblies they want to attend," she said.
Despite the setbacks this year, many students on campus, audience members and performers alike, cherished Diversity Day and its importance to DMAE.
Senior Julia Tache who participated in the traditional Filipino Tinikling dance one last time commented, "I was really proud of everyone in Diversity Day because you could see their hard work and effort on stage. I don't believe I would have had the opportunity to be a part of such an amazing event at any other school," added Julia seriously.
As DMAE goes into preparation for next year's Diversity Day, students and Ms. Aronson hope for a more polished, less rushed show that would showcase the campus' diversity without jeopardizing any performances.
About the Contributor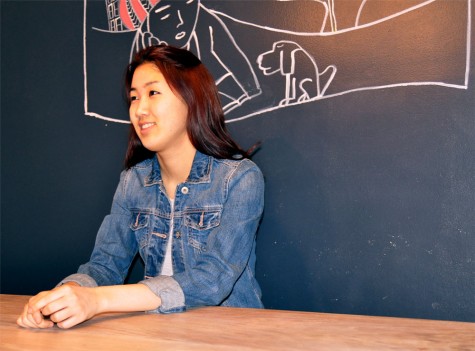 Julianne Jeon, Editor-in-Chief
Julianne Jeon, or "Julie," is a senior in the Biomedicine Academy and the 2015-2016 Editor-in-Chief of The Maroon Tribune. She is also in charge of...