Lady Raiders' Sabrina Defreese: 1000 Point Stardom
Sabrina Defreese, a junior at Dwight Morrow High School, is a women's basketball star. The Maroon Raiders have one of the best offensive guards in northern New Jersey. Her cool calm and collected look is one that deceives. All she does is let her playing do the talking. She is a very consistent player who has recently scored 1000 points.
Eight men were able to score 1000 and only SIX Lady Raiders have been able to steer their career straight into the 1000 club. Sabrina is the first to join the prestigious club since Christina Jones in 2011 and Klarissa Perry in 2010.
"She certainly deserves to be a part of that elite club. She is emerged as a great leader on our team. She is everyone's friend and loves to work hard to win," Dwight Morrow head coach Dave Kessinger said.
With coach and team supporting her Sabrina was able to achieve this feat against Mahwah. Her screeching 23 points
She works very hard and is a player who deserves it. She works hard and is also a great friend to everyone off the court.
against the Thunderbirds led her to breaking into the 1000 club, along with three blocks, four steals, and six rebounds.
"It was very enjoyable, I appreciated everyone that came to support me," Sabrina said. "I was thinking to myself when I had only one more point to go and said I'm finally here," added the  humble star.
As she scored the last point to reach 1000, the game stopped and everyone cheered. Her friends congratulated her on the court with the Raider Pride they shared.
"Everyone was ecstatic," sophomore Jayla McDuffie said. "We all were excited for her."
But the amazing part of these numbers is not in this individual game. She averaged 20.9 points and 4.8 rebounds per game. She already had 1094 points in her career.A senior on the team, center Justine Sendecki, who has combated injury this year explained the achievement.
"She works very hard and is a player who deserves it. She works hard and is also a great friend to everyone off the court," Justine said.
Sabrina has helped the Dwight Morrow Girls Basketball team to seven wins this season and has brought plenty of pride to the program. Her skills and personality add up to an amazing player. As a junior, she still has much to contribute to the team next year..
"I've worked hard this year and my goal for next year would be to try to beat the record for girls, which is 1688," Sabrina said.
Sabrina could potentially situate her name among Dwight Morrow's legends and even become the all time scoring leader.
About the Contributor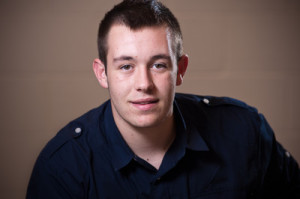 Cristian Milevski, Staff Reporter
Cristian Milevski is a junior in the Law and Public Safety Academy. He is actively involved in both the school's Varsity baseball and football team....