Lest We Forget: 9/11 Assembly
As September 11 approached, people all across the nation began remembering the day when almost 3,000 people were killed in terrorist attacks. They wanted to pay their respects to the innocent lives lost and honor the deaths through various ceremonies and rituals. But this vision is fading.
"
"I liked how the focus of this year's assembly… centered around how we as a nation came together…""
— Junior Yea In Kim
In recent years, fewer high school have assemblies to commemorate 9/11. Taking note of this, history teacher Judy Aronson, along with DMAE students from her Diversity class, focused this year's 9/11 ceremony  on reminding the students on campus once again of the grief and fear suffered by millions as a result of the terrorist attacks 13 years ago. She and her Diversity students were inspired to sustain a seemingly fading tradition, at least here at DMAE.
"We're a very unique school for having this. If you ask most of your friends who go to other high schools, they barely do anything for 9/11. Even people who work in the Pentagon don't do anything to acknowledge 9/11 anymore," Ms. Aronson said. "I think that's shameful, because it did happen in our lifetime, and it's too soon. It saddens me because it is an indication that everything is so fleeting in our world," she said.
Established just four years ago by then-junior Jay Locquiao, DMAE's 9/11 ceremony started off when, with a little push from Principal Peter Elbert, Jay went to Ms. Aronson with an idea to hold an assembly to commemorate the tragedies that occurred on September 11.
"Jay and I sat together and really mapped out what the assembly could be. We carved it out of a couple of YouTube videos, and Mr. Hanson actually gave us an idea to use a video of the 'Man in the Red Bandanna,'" Ms. Aronson said.
Now, just four years after its initial inception, DMAE's 9/11 ceremony has become a tradition on campus, with Diversity students starting preparations in the spring and adding finishing touches on their own time during their summer break.
"That these kids end up finalizing their projects during the summer, when they don't even have my class, just speaks to the dedication and commitment our kids have, and how true and real they are," Ms. Aronson added. "When they do something, they give it their all and they want it to mean something."
Typically, the ceremony runs for one full period, with a few creative performances from students, such as poetry, speeches from the administration, and a video to show actual footage of the events of 9/11. This year, the video was composed by juniors Vinita Hazari and Joshua Atienza. They created the video to juxtapose the ruins of the World Trade Centers with the One World Trade Center that now stands in its place.
"We wanted to show our classmates the tenacity of America in its ability to create such a majestic piece of work on the very spot where our country was devastatingly hit just over a decade ago," Joshua said.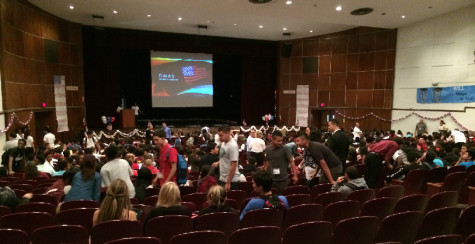 Towards the end of the service, there were two unique presentations created by the members of the Diversity class. The first was a 3D replica of the One World Trade Center, which was displayed by junior Sam Kim, along with sophomores Kendra Kim and Jenny Zhang.
"In this attempt to translate Josh's and Vinita's video into a physical representation, we built this model together in order to depict our country's gradual rise from the literal ashes of Ground Zero," said Sam. "When it seemed that all hope was lost, here we are now, 13 years later, having an assembly to talk about how the people of the U.S. came together and came out stronger than ever."
Once that segment of the ceremony concluded, Jay Locquiao's sister, sophomore Krishalei Locquiao, in an effort to seemingly carry on her brother's outlook and depict America's refusal to be defeated from acts of terrorism, took the stage to perform an interpretive dance. After her performance, the ceremony was closed with a final speech made by members of the Diversity class.
Students expressed their satisfaction with the overall assembly, citing how they felt empowered by being reminded of America's determination to overcome terrorists.
"I liked how the focus of this year's assembly, unlike those of previous years, centered around how we as a nation came together, regardless of race, ethnicity, background, and refused to fall with the Twin Buildings, which was what the terrorists were hoping for," junior Yea In Kim stated.
In spite of decreasing numbers of 9/11 ceremonies across the U.S, Ms. Aronson, along with her Diversity class, hopes to keep this DMAE tradition alive for years to come.
About the Contributor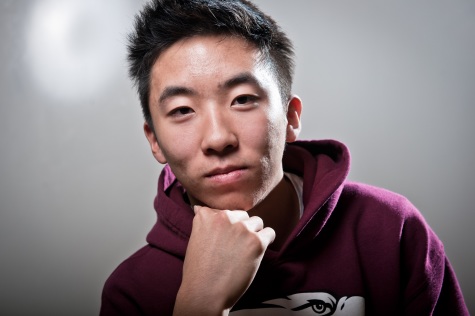 Justin Jeong, Co-Managing Editor
Justin Jeong, a junior in the Biomedicine Academy, is a managing editor for semester 1 for The Maroon Tribune. As a returning staff member, he is determined...