Gone But Not Forgotten
As the 11th anniversary of one of the country's most devastating terrorist attacks in history approached, ceremony advisor and freshman history teacher Judy Aronson and others sought to commemorate those lost with DMAE's 2nd annual 9/11 Ceremony. Taking place during second and third period on Tuesday, Sept 11, 2012, this ceremony included student presentations and videos reminding the audience to stay strong.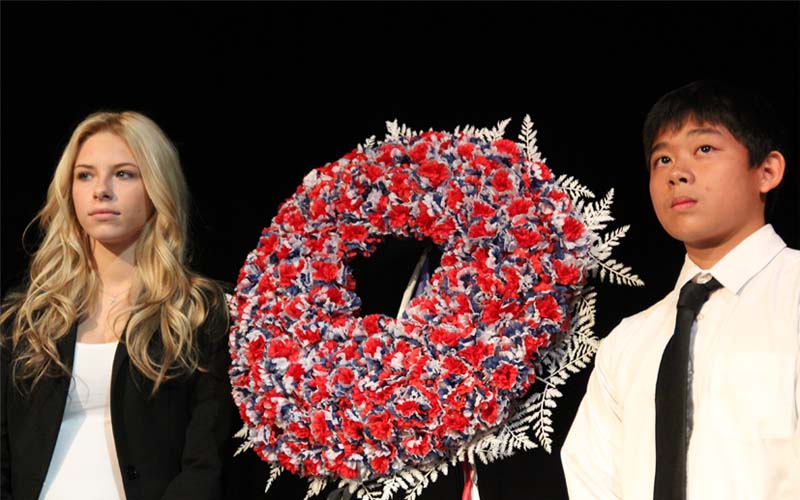 "As America changes, our take on 9/11 changes," Ms. Aronson said, "And I think it's healthy for our students to ponder that."
The theme of the changing of America had a prominent presence throughout the presentation. Through the student's extremely personal presentations including a link chain with each link representing the 2,977 victims made by senior Hannah Barry, the painted banner, and the powerpoint presentation on the visiting of the Freedom Towers by juniors Jessica Suroweic and Stefanie Zapata, the theme resurfaced again and again.
"Last year was about giving solace to those who needed it and praising the bravery of the first responders. This year, it's about time America finally moves on," event coordinator senior Jay Locquiao said.
As the years have gone by, it seems that people have forgotten more and more about 9/11. It has become simply a part of history and therefore has been disregarded in the public school system and beyond. "It would shock you how many schools did absolutely nothing to commemorate 9/11 this year. Not a moment of silence, not a lesson in the classroom. Nothing! But we haven't lost our sense of respect and our desire to make sense of what happened," Ms. Aronson said,  "Add this to the list of reasons why our students make this campus such an interesting place."
Although the country seems to be moving on, we will never stop thinking about the events of September 11, 2001.
"I'm glad that America is finally moving on from 9/11, but I'm also happy that it's not going to be completely forgotten," senior Brian Kouassi said.
Looking forward to next year, Ms. Aronson claims that she will "absolutely do it again" since the unique atmosphere of the school "energizes" her.
About the Contributor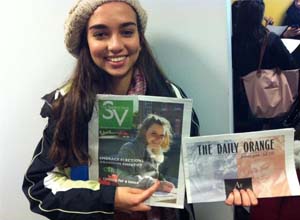 Katarina Cruz, Semester 1 Co-Managing Editor
Inspired by the world around her, Katarina began writing at a very young age. Since then, she has taken various writing courses throughout her years at...