2020 Diversity Day Saved: 5 Channels on Zoom
EAT, LIVE, PLAY, TALK, ART
For the first time in DMAE history, Diversity Day was a virtual event held online on June 19, 2020, from 11:00 a.m. to 1:00 p.m. Diversity Day Club advisor Judy Aronson and approximately 75 members of the Club adapted the activities to a virtual platform to provide a fun event in response to the hardships from quarantine and virtual learning and to maintain a long-held tradition that students look forward to every year on the last day of classes.
However, the event drew controversy from some Englewood residents because it was held on Juneteenth, the holiday commemorating the end of slavery and Black pride. They voiced concerns that the celebration of diversity on that day diminished  the celebration of African American freedom and expressed their point of view to the Englewood Board of Education. Students of the Club and Ms. Aronson acknowledged these concerns and will respond at an upcoming Board meeting.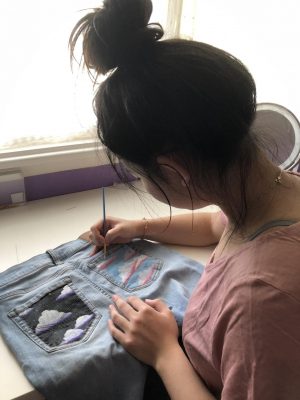 And so this year's Diversity Day was not how anyone expected it to be, before, during or after it took place. Yet, organizers overcame the many obstacles.
Five "channels" students could join via Zoom were created to celebrate culture and heritage. The biggest challenge was planning what it would look like. How could they take something so physical and performance-driven and turn it virtual? The problem-solving became part of the enjoyment.
"It was a great way to interact with my peers and it was interesting hearing everyone's ideas," junior Sebastian Salazar said.
The two hours were split into "Eat," "See It Live!," "Wanna Play?," "Let's Talk," and "DIY Art." Each channel had a chaperone to help with whatever was needed and to support student efforts: John Cash, Jackie Goolsarran, Eric Lax, Roslyn Powell, and Mauricio Rodriguez pitched in. 
Website creators Rebecca Tsekanovskiy and Lesrene Browne posted the schedule of events on dmaediversityday.com. By clicking on an icon, participants were instantly linked to Zoom channels where student hosts put on events – some in real time and some pre-recorded on apps like Tik Tok. 
"
Diversity Day was not how we usually do it but we made the most out of our situation!"
— Khushi Panchal
"Diversity Day this year was not how we usually do it but we made the most out of our situation! We had a variety of games, food, conversations, performances, arts and crafts, discussions, and more! I did a makeup tutorial, and everyone on the Art channel had so much fun," junior Khushi Panchal said.
"See it Live" channel had singer performances, such as sophomore Kimberly Ferreira's song "Fico Assim Sem Você" with guitar accompaniment by her father, juniors Angelica Munoz's and Tiffany Moon's song "Love," and there was a Michael Jackson "Mash-Up" with various photos of him and events, such as the Black Lives Matter Protest. There were performances from DMAE's a cappella group Vocal Synergy, the K-Pop Dance, and dance tutorials. The "DIY Art" channel had activities to paint jeans, embroidery, and collages. On "Let's Talk," Christopher Butcher and the Lewis sisters spoke on race, while others presented on the topics of race-money-education, LGBTQIA+ relationships, and immigration. "Eat" had cooking from burritos to "brookies," and "Play" offered sports techniques including how to spike a volleyball or spin ping pong balls. 
"
Although we were unable to hold an in-person Diversity Day event this year, the virtual one was a success and I am glad I was able to participate one last time."
— Caleb Kim
"Although we were unable to hold an in-person Diversity Day event this year, the virtual one was a success and I am glad I was able to participate one last time," senior Caleb Kim said.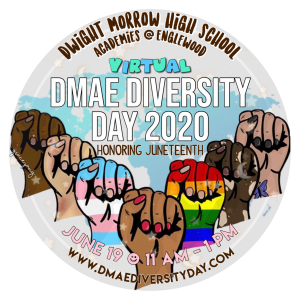 This year's logo was another creative contribution. Designed by sophomore Grace Yang, it shows seven fists of different races, genders and identities to stand in solidarity with the BLM Movement and to honor Juneteenth and the commemoration of African American freedom. 
Though Diversity Day was held on Juneteenth, the day wasn't chosen for that reason, however, students saw this as a timely coincidence, a way to celebrate Black history all the more. Later, when Ms. Aronson explained concerns, students understood how it could be insensitive.
"We are at a watershed moment in history right now, and it's important that all of us recognize our limitations and biases and hear other people's pain," Ms. Aronson said.
Christopher Butcher, head of the High School's Black Student Union, plans to lead Black History Month activities and the Juneteenth celebration for the 20-21 school year and create meaningful events.
With the work of 70-80 students, the 2020 Diversity Day was saved and lessons were learned.
About the Contributor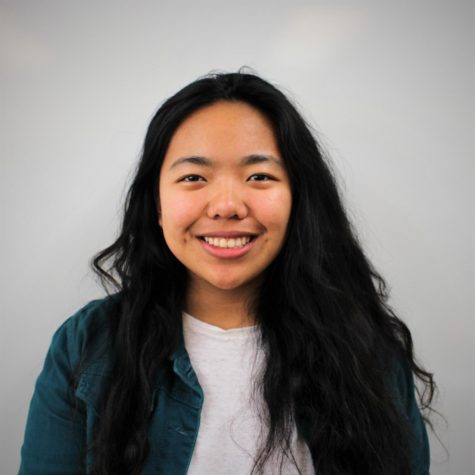 Dekyi Tenzin Tsotsong, Senior Reporter
Dekyi Tsotsong, a third year member of The Maroon Tribune, is a senior in the Law and Public Safety Academy at the [email protected]. She a Section Editor...