Heroes Teach Good Choices
On January 25, 2019, approximately 40 students from DMAE, the  "heroes" of Heroes and Cool Kids, walked the short distance to Janis E. Dismus Middle School to teach 197 eager sixth graders, the "Cool Kids," about proper diet and good decisions. The heroes, whose main goal is to be mentors to middle schoolers, won over the curious younger crowd with enthusiasm, their own stories and lots of information on how to make informed choices.
"The kids were very excited to talk to us, and they were jumping out of their seats to answer questions on eating habits," sophomore Gabrielle Edwards explained. "Michael and his friend group were especially active and competitive in trying to get our attention," she added grinning.
In their presentation about proper diet and good decisions, the heroes taught the sixth graders about making better choices, such as eating more fruits and vegetables as well as proteins. The students listened carefully to what the heroes had to teach them.
"The messages that the 'heroes' teach the middle schoolers are applicable to every student in the district, whether they're in the first grade or seniors in high school," explained club adviser Stephen Hanson, who is passionate about this program. "Your lifetime is all about making choices, and we just want to help the youth to make the best choices for themselves," Mr. Hanson said.
These interaction were important since many of the current heroes have been on the other side, receiving the presentation when they were in middle school.
"I went to Janis E. Dismus Middle School and I think it's cool to teach kids who go there since I can relate to them because I was in their position not that long ago," sophomore Jaelyn Mann said.
Mr. Hanson hopes that the interactions between the "heroes" and the "cool kids" will inspire the current sixth graders to become future "heroes" and keep the cycle of inspiration turning into mentorship.
"When I first decided to join, I honestly didn't think I would like it that much," explained Gabrielle, "but after getting to meet kids and present to them, I learned to appreciate the program a lot more."
Bruce Harper, a 1973 graduate from Dwight Morrow and former NFL New York Jets running back, founded Heroes and Cool Kids with the intention of spreading messages about good decision-making, anti-bullying, and drug abuse. He wanted to make sure that the source for this information was accessible to middle schoolers, and that is why he wanted the information taught to be done by high school students who were in their position not long ago.
"Heroes and cool kids is a really good experience since I'm able to connect with a bunch of people from school and talk to little kids and influence them," sophomore Jaelyn Mann said.
The heroes plan on revisiting the middle school two more times this year to teach the "cool kids" about the pressing issue of bullying and drug abuse.
About the Contributor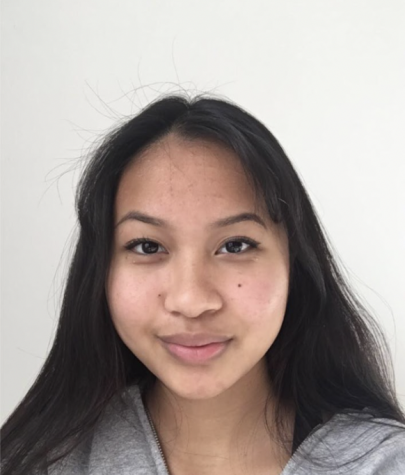 Arianne Garcia, Co-Managing Editor
Arianne Garcia is a senior in the Law and Public Safety Academy and a third year member of The Maroon Tribune. She came into The Maroon Tribune inexperienced...