Promoting World Peace
Is the Peace Corps right for you? On Monday, Nov. 5, 2018, the ZONE held a Peace Corps presentation in the library to inform students of DMAE about the government organization. Yessenia Gonzales, a Peace Corps member and DMAE alumni, told students about her experience as a volunteer.
"If I had never learned about the Peace Corps in college, I would have missed out on such a great life opportunity," Yessenia explained.
According to Mariam Gerges, ZONE Director of School Based Youth Services who organized the event, the aim of the presentation was to tell something different to students to help them realize that there are many options out there in the world that they might not know about.
"I feel and think the Peace Corps is a great service program with a wonderful goal of world peace through education and programs in all parts of the world," Ms. Gerges said. "I thought it was beneficial to show this one to students of DMAE to help them expand their horizons in thinking about career paths and life choices," she added.
In her presentation, Yessenia described what it takes to be a Peace Corps volunteer as well as her personal experiences. She explained how, as a volunteer, she picked a third world country and a "sector" which was her job while in the country. She told about living with a family during her service and how even just the relationship she built as a volunteer with the family helps to promote understanding that contributes to the Peace Corps' ultimate goal of promoting world peace. Students understood the value of her service.
"This organization could lead us to widening our knowledge of different cultures, bringing back that knowledge to the United States and enlightening our youth!" sophomore Emre Ozmemili said.
Students were also amazed when they heard about the many benefits Peace Corps volunteer receive. For example, a stipend of $8,000 at the end of a two-year service, possible student loan forgiveness, and medical benefits. Students were most impressed after finding out that if they were to ever apply for a government job, just by being a Peace Corps volunteer, their names would be put at the top of the list, and their application would be reviewed first.
"I think the Peace Corps is a good opportunity to contribute to the world and to earn money and earn many benefits while doing it," sophomore Jaslyn Tu said.
DMAE students were enthusiastic about the presentation, and showed their appreciation with loud applause. As a result, Ms. Gerges plans to schedule another Peace Corps seminar in the spring to inform students who could not attend this one.
About the Contributor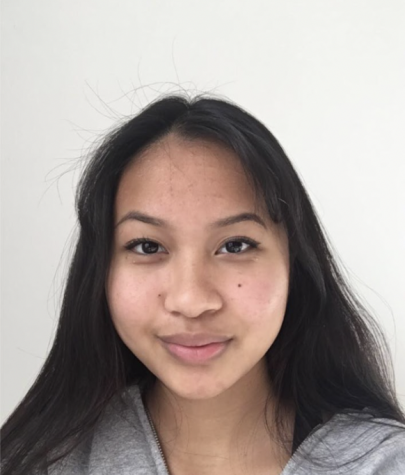 Arianne Garcia, Co-Managing Editor
Arianne Garcia is a senior in the Law and Public Safety Academy and a third year member of The Maroon Tribune. She came into The Maroon Tribune inexperienced...