Student Council: A Fresh Start, New Goals
"
Follow us on Instagram @dmaestudentcouncil!"
— DMAE Student Council
On Friday, Sept. 29, 2017, a school-wide election was held during first period to elect candidates running for grade representatives for the DMAE Student Council. Interested students campaigned for three days prior to the elections after expressing their desire to be involved in Student Council interim co-advisers, Eric Lax and Daniel Nyfenger. The day marked the beginning of an active student council with new advisers at the helm, seven appointed officers navigating suggestions, and 16 elected class representatives reporting on concerns and new ideas of their class members. All are helping to fundraise for activities and causes. All want to make a difference on campus.
"Some of our goals are bridging the gap between the students and the administration," co-president Nicole Matsanov said. "We want to improve communication and school spirit and we are focusing on creating a better environment for all students on campus," she added intently.
The Council has been actively fundraising and has begun to sponsor and promote activities. It actively planned the Pep Rally with Principal Billy Bowie. Students liked that the Pep Rally was held during school hours this year because they could cheer on sports teams with their friends.
The Council also began fundraising with a Halloween candy raffle. Students and teachers bought tickets from a student council member for $1 a ticket or $5 for 7 tickets. Winners got either a 12 ounce Hershey Kiss or a five pound bag of gummy bears.
"We have developed a good rapport already with the administration and teachers," Mr. Lax said. "We have already collaborated in the successful Pep Rally and are working on a few other things right now as well!" he added avidly.
The Council has had successful bake sales and has expanded the teachers Jeans Friday to be more than just a fundraiser for school activities and charities, but also one that gives to the community. Last month Jeans Friday proceeds went to the Susan G. Komen charity for Breast Cancer Awareness month. For November, the proceeds were split between Student Council and Juvenile Diabetes Research Foundation as a part of national Diabetes Awareness month.  
"The reason I got involved is not one of self-promotion," explained Mr. Lax. "As  a person who always wants to be able to give back and help improve our school, this presented me with a great opportunity."
Throughout the school year, student council will continue to fundraise and plan fun events, such as the winter formal. With the support of the student body, student council will be able to reshape DMAE and promote even more school spirit.
About the Contributor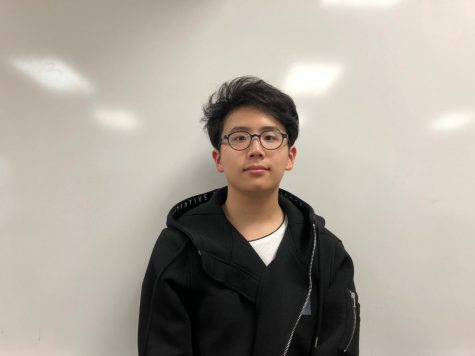 Andrew Lee, Staff Reporter
Andrew Lee, a sophomore in the Biomedicine Academy, is a first-year writer on The Maroon Tribune.  He is an officer of DMAE student council, a member...