Annual Sociology Bazaar
One of DMAE's most distinctive traditions, the annual Subculture Bazaar, was held on December 2, 2015 as the south cafeteria was commandeered by Dr. Brian Hall's Sociology sections for first three periods of the day. Colorful tablecloths brightened the room and detailed displays educated and entertained the many visitors. Between the swirling red, white, and blue of the traditional Dominican dresses, the aroma of Southern fried chicken, and the cries of "Cowabunga!" from the surfer table, the cafeteria was temporarily transformed into a heterogeneous microcosm of international culture.
Some students went to the Bazaar during their free periods. Others, such as senior Ody Castillo, went with their class.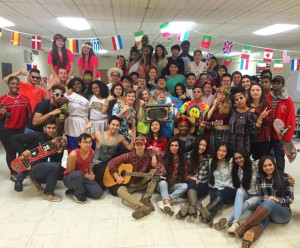 "Ms. Nieto brought us because there was free food," he admitted, reflecting a common sentiment. "But also, I had a lot of friends who were in [the Bazaar] and said I should 'come be a part of it'."
Participants in the Subculture Bazaar were especially enthusiastic about their work. Senior Paula Niederland had visited the Bazaar as an underclassman but this year, she participated as a representative of hippy subculture.
"I chose [hippies] because I thought their time period was very interesting. Hippies did a lot of drugs, believed in free love, and listened to really good music," Paula said.
Finally being able to participate in the event also made her realize exactly how much hard work had to be done in order to create the fun space.
"The experience of actually completing the project was not as glamorous as I thought it would be. As exciting as a subculture bazaar sounds, it's still a group project," Paula revealed. "But I learned a lot about hippies and fell in love with the aesthetic result of my project," she amended.
Dr. Hall believes that the Bazaar is a fun way to educate his Sociology students on the aspects of various subcultures.
"It's an opportunity to take the concepts we learn and apply it to a specific group. It's experiential," Dr. Hall explained. "Instead of having a boring Powerpoint presentation about culture, it allows [the students] to experience it and allow others to experience it as well, by eating the food and listening to the music."
With the 2015 Bazaar over, it brings this generation of Sociology students closer to graduation. By December of next year, the Sociology class of 2017 will have their turn to participate in this rich tradition.
About the Contributor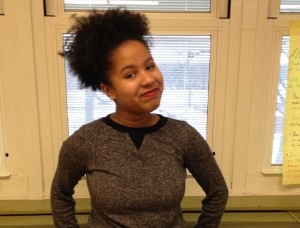 Niaree Thomas, Reporter
Niaree Thomas is currently a sophomore in the Biomedicine Academy. She participates in the school's Mock Trial Club, the Heroes and Cool Kids program...