The Art Portfolio Club
Portal to a Future in Art
The classroom is quiet as music plays softly in the background; a focused haven of gentle sculptors, busy illustrators, and contemplative painters. Each artist is fully immersed in his or her own unique project and working with an attentiveness that would not be out of place on the campus of an arts college – and that just might be where some of these students are headed – but this is Mr. Rodriguez's art room on Thursday afternoons, home to the DMAE Art Portfolio Club.
In this club, students work independently to create a body of work called an art portfolio. It includes a wide variety of artworks spanning a range of mediums, but all with the intention of best representing the student's talent, especially for college. For example, pencil sketches, still life paintings, multi-media works and even sculpture are created.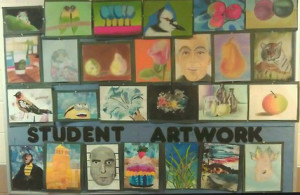 Sophomore Yume Murphy participated in the Art Portfolio Club last year. She joined because of her love of art.
"Being in the club really helped me a lot – with my drawing especially. I got a lot better," said Yume showing her well-used sketch book.  "I really want to go to an arts school. I'm interested in schools like Cooper Union," she said.
Art schools are not the only schools who would be interested seeing a prospective student's art portfolio.  Many excellent and non-specified universities have strong arts programs.
According to the DMAE's official data, within the last 3 years students have been accepted into arts-driven powerhouses like New York University, Northwestern University, and Indiana University at Bloomington. For students interested in applying to universities like these, an arts portfolio is a must according to Art Portfolio Club advisor Mauricio Rodriguez.
"This club can help students become better artists whether or not they want to go to an arts school," he noted while sorting papers and supplies in his art room.
"I would say that it's fewer rather than more students who go on to an Arts College, just because of the way that the Academies is set up. There is no art academy so many students who are strongly interested in art don't go here," Mr. Rodriguez explained.
However, he said that there are many options for students to incorporate art into their schedules at DMAE, including Art Portfolio Club during which Mr. Rodriguez gives advice and encouragement to students as they work.
"I definitely didn't have anything like this in my high school," he acknowledged wryly. "In high school, I only took one art class. College was when I really became interested in art," he said.
Despite the numerous advantages, only 15 students were enrolled in the club in the first semester of this year. Mr. Rodriguez hopes the club will interest more and more students and help to make those who join better artists.
Students who are passionate about art and want to attend an arts school or simply want to use their club period to exercise their creative abilities will find resources, support and lots and lots of paint and paper in Art Portfolio Club.
About the Contributor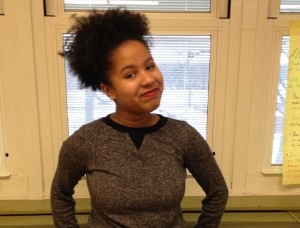 Niaree Thomas, Reporter
Niaree Thomas is currently a sophomore in the Biomedicine Academy. She participates in the school's Mock Trial Club, the Heroes and Cool Kids program...