The Peer Mentoring Club: Help and Safety
Freshmen year: (noun) the transition from Middle School to Hell. Synonym: Purgatory
Freshmen year at the Academies is defined by Frost Valley, the Philly Trip, but beyond the limited, carefree joy- it is defined by the struggles endured.
"When I was a freshman, along with Dominica, we found the transition into high school extremely difficult," sophomore Giannina Garcia said.
They thought the DMAE environment in particular was difficult to transition into due to the rigorous courses and various new people.
"We wanted to create a safe space for students with both a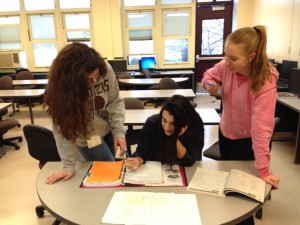 cademic and social issues, regarding the transition," she added.
Giannina Garcia and Dominica Dul founded the Peer Mentoring Club late freshmen year.
"We first thought of the idea at the class of 2017 Induction Ceremony that we volunteered at last year," Dominica said. "There was a lot of tedious work and preparation in creating the club; however, I am really glad we were able to provide this opportunity to our incoming freshmen."
The duo briefly introduced the new club at the sophomore Award Ceremony last year. Since then, they met with administrator Gordana Picinich over the summer to discuss idea. The two also reached out to the Zone. Fortunately, teacher Fina Espinal-Flores was willing to be the club's advisor.
"I felt the two took a very good initiative," Ms. Flores said.
The club has come a long way from its early proposition last year. There are seven members in the club who help tutor such subjects as: world language, law, geometry, biology, English, and even US history.
"Just today a freshman came to me to tell me he did very well on the biology test I helped him study for," Giannina said.
The club also makes a point of expressing the keys of success: time management and organization. The two seemingly simple components are the qualities most difficult for freshmen to acquire. Yet, even beyond that, the club focuses on early social struggles.
"It helps with social insecurities because freshmen are able to associate with other freshmen and upperclassmen, which in turn helps them build confidence and is beneficial to their growth," Dominica said.
The club has reached many milestones in just its first semester of establishment. In addition to the freshmen, the club has actually aided several sophomores in handling troublesome subjects. In the years to come, Giannina and Dominica hope to not only keep the club running, but also to expand and reach out to more students.
"We hope that the underclassmen will eventually inherit the club when we graduate and pursue the goals we've laid out," Giannina declared absentmindedly, content in envisioning the bright future her club poses.