Open Arms: A Club with Relevance
A fourth of the homeless population in the United States consists of military veterans. Approximately 22 veteran suicides occur every day. The unemployment rate for vets who served in the military in the last 12 years is shocking and much of it is because of post traumatic shock syndrome. These facts motivated students at DMAE to want to help United States veterans and as a result, the Open Arms Club was created.
The Open Arms Club is a relatively new noble cause on campus with unique relevance to the entire student body. While not many people know what the club does and why it is so important, it is nonetheless significant because it not only does  it raise money for a deserving cause, but also brings forth an issue that is important and relevant to everyone.
Open Arms Club's mission is to help support varied non-profit organizations that promote the well-being of veterans. Sophomore Justin Jeong, a highly active member of the Club, accurately described why this Club is needed on campus.
"Open Arms is a Club that was started last year with the purpose of raising funds for returning veterans," Justin explained. "It is based solely off of the efforts of the student body and has been making significant efforts to amass donations through various fundraisers within school grounds."
The current fundraising drive of the Club is selling 2016 class sweatshirts, sweatshirts that promote class spirit and a way for students to remember the years they spend on the DMAE campus. So far the Club members have sold approximately 25 sweatshirts and plan to double or triple sales by the end of the year.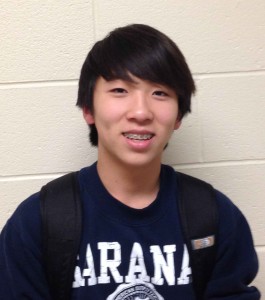 Justin believes that it is the duty of American citizens to "pay respect and homage to the veterans who risked their very lives for our sake."
As a matter of fact, there are several faculty members at DMAE who have recently served in the military. Physical education teacher James Taylor is a five-year Navy veteran who served in Operation Desert Storm. Jose Garrigo, a history teacher, served five tours of duty in the Army, including deployments to Kuwait, Afghanistan and then Iraq. Science teacher Cliff Nesfield was a paratrooper in the Army and served in the first Gulf War, and history teacher Jerry Regalado served four years in the Marine Corps special services.
The club's advisor, Randy Sherry, agrees that it is important to honor all veterans. He feels that the comfort of veterans returning to civilian life is a concern we should all share because we often come across people who have served in the military in our everyday lives.
"We should be aware that in times like this, people who served our country to preserve our freedom have even less than the neediest people in our district, and we can make a difference," he said.
Larry Felix, a freshman member of the club, simply finds joy in being able to do things for others and wants more people to have this attitude.
"I really like to find ways to help other people," Larry said. "There aren't many people in my class that would like to participate in things that help others, so I want to be that one person who makes a difference!"
Unfortunately, many veterans and their families suffer from financial instability, medical problems, and many other living conditions that make assimilating back into civilian life difficult. Justin feels it is critical that those who fought for our freedoms be able to live "comfortable lives beyond the battlefield."
Justin explained how the funds raised by Open Arms are donated to two organizations, USO (United Service Organizations) and Got Your 6. The USO's efforts have a special emphasis on showing gratitude to our veterans, the "wounded, ill and injured heroes" according to the USO website. Got Your 6 works to help provide veterans with the best jobs, education, health, housing, family life, and leadership skills; what they regard as their "6 Pillars." Their emphasis is on leadership as that is a trait many veterans are valued for.
Open Arms help those who have served in the United States military and their families. The club and its members are dedicated to helping improve living standards for returning veterans and hope many more students join in this cause in the second semester of the school year.