A Season Without a Home
The Dwight Morrow Maroon Raiders Football team faced a heartbreaking stepback to begin their season, the destruction of Winton White Stadium from Hurricane Ida. On September 3, 2021, days before the start of the 2021-2022 school year as well as the Raider's season opener, Englewood was ravaged by the flooding of Hurricane Ida. This resulted in indefinite use of the field, as well as damage to all facilities, equipment, and player attire. 
Thus, with a heavy sprity, the Raiders began their season the following week with a high-scoring loss at Fort Lee. Unfortunately, they were not able to turn their season around, losing another five games in a row.
"It's been tough picking up the pieces, but we are finally getting out of our funk," Head Coach Joe Hoyle stated.
Despite their losing season, the team had multiple standouts, including seniors Jayce Perrington, Justin Izzard, and Tristan Dreher. However, the team also suffered multiple injuries with starting quarterback senior Jason Williams, and senior Keenan Cheek, who were both out for multiple weeks during the season.
Leading up to the Raiders Homecoming game against Dover, DMAE held its annual Spirit Week. And it made a difference. Spirits soared during this week as students dressed up in their favorite sports jerseys, 90's theme, all pink, tacky outfits and in school colors for the Friday Pep Rally. The Pep Rally included multiple games, bringing the fall sports teams on stage, and amazing performances from the Dwight Morrow High School Marching Band. Seniors Tsean Mattoo and Flora Cho were crowned as Homecoming King and Queen. The student body and the athletes felt pride.
And so, although the Raiders were unable to have any home games this season, including senior night, they won their first game against Dover, 26-24, October 22, 2021. 
"It felt good to get a win for Englewood, especially with everything we've been through, it was a great way to end our senior season," senior Justin Izzard said.
The Raiders began strong against Dover, with sophomore Jordan Moorer making a touchdown in the first five minutes of the game. The cheerleaders were happily jumping around with excitement.
"After I scored the first touchdown against Dover, I was overjoyed because I felt that it was the fire starter that would burn for the rest of the night," sophomore Jordan Moorer said.
"However, that was just the beginning. I ended up scoring twice more that night. The ending score was 26-24 and when I got on the bus the flame went out and I went to sleep," Jordan added.
Both players and coaches believe the team is in good hands for next year, with multiple skilled players including sophomore Jordan Moorer and Mike Ramirez, and freshman Amare Washington.
About the Contributor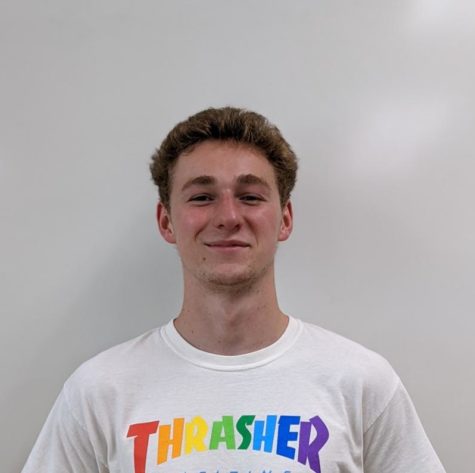 Sean Moravsky, Sports Reporter
Sean Moravsky, a senior in the Biomedicine Academy at Dwight Morrow High School, is a fourth-year writer for the Maroon Tribune. His hobbies include playing...