Work Hard, Play Hard
Dwight Morrow Girls Basketball
"
I loved playing with each and every girl on my team this season. There were ups and downs, but in essence I feel that we grew together…"
— Tiffany Tory
The 2018-2019 Dwight Morrow Girls Basketball season is looking up for the team with the help of the new coaching staff. This season has already shown improvement with three wins against Wood-Bridge, Mary Help of Christians, and Bergenfield. Varsity head coach Milton McManus knows the team is putting in effort.
"This is the season of change. With a new coaching staff, the girls have had to buy in until we could truly start working hard," said Coach McManus.
With sportsmanship and positivity, team members have worked hard to come together and play better, especially with many underclassmen on the varsity team and when the stakes were high.
"The team slowly got better and better as it adjusted to a new coaching staff," junior point guard Janesa Cockburn said.
Their improvement was largely due to dedication and practice. They took conditioning and practice seriously, with no days off, and learned new game plans from their coach.
"The team has put in the work to make this a good season," freshmen forward Shania Defreese said. Shania is the younger sister of Sabrina Defreese, a 2016 Dwight Morrow alumni who is known for achieving 2000 points during her varsity basketball career.
Varsity captain senior Tiffany Tory noted the challenges the team has faced in her years on the team with different coaches each year.
"As captain of the girls basketball team along with Lylianna Daily, I can say that we were able to develop better leadership skills and embrace responsibilities for the entire team through our challenges," Tiffany said. "I loved playing with each and every girl on my team this season. There were ups and downs, but in essence I feel that we grew together while supporting each other. We stuck together and made it to the end," she added proudly.
However, Tiffany and Lylianna will graduate and with the loss of these two vital senior players, the team will once more have to adjust once again for the next season. However, it is clear that this team can meet challenge.
About the Writer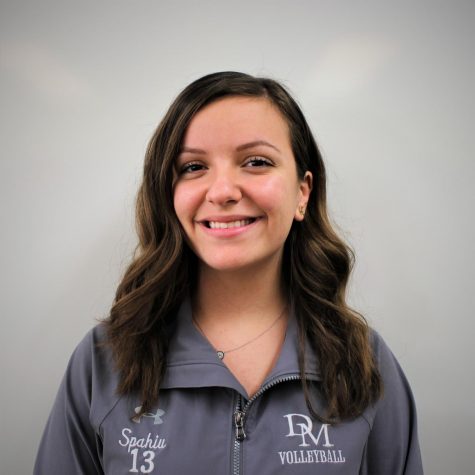 Klaudia Spahiu, Sports Editor
Klaudia Spahiu is a current senior in the Finance Academy and is a third year member of The Maroon Tribune as the sports section editor. She is one of...