DMAE Joins National Walkout
"
Even though we are young, being united helps us send a message that is heard nationwide.
— Sienna Tu
On March 14, 2018, at 10:00 am, students from DMAE gathered in front of the Dizzy Gillespie Auditorium to remember the students who were killed in the Parkland, FL shooting a month before. Survivors of the massacre at Marjory Stoneman Douglas High School began the nationwide youth movement to increase pressure on Congress and the National Rifle Association (NRA) to abolish and modify gun laws and restrictions.
"I don't think that anyone should have access to military-style assault weapons and politicians should not be accepting money from the NRA," freshman Emilia Bern said.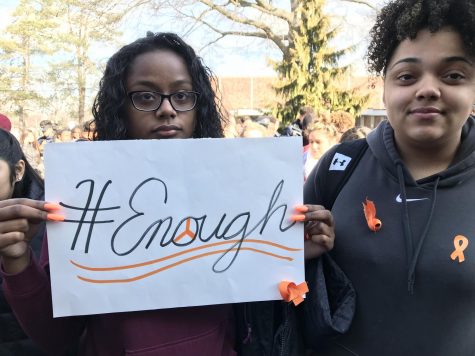 Orange shirts, ribbons, wristbands, flags and signs with orange letters and the slogan "enough is enough"  caught the bright sunlight streaming from a clear sky during the 17-minute rally, symbolic of the 17 students who lost their lives. Students paused for a moment of silence and rally organizers read the names of those who died; names they had written on the small orange flags. They raised each flag and then their voices in a call to action against gun laws that allow semi-automatic weapon sales.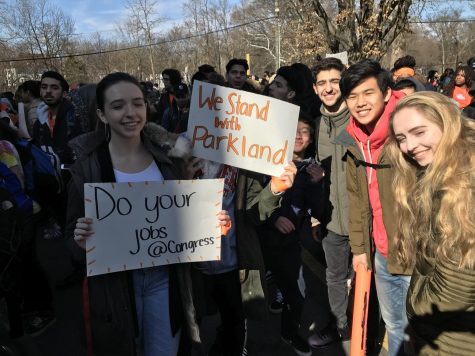 "Remember that gun violence is an issue that affects everybody and your voices are important," senior Kaya Karibi-Whyte expressed.
Kaya and other Walkout organizers seniors Matthew Alston, Shakee Merritt, Alexis Oliver, Gisselly Peralta, Eiman Rauf, Sue Um and sophomore Gianna Scarpa, expressed their feelings about the need for school safety and change for unacceptable pro-gun laws. Then they asked students to join in with their voices to show Congress that teenagers can take action and be engaged in the political process.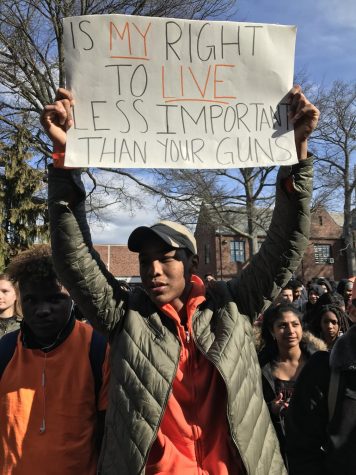 "Think critically about the information you get and speak up when you think something is not right," Kaya said. "Join a movement with facts, real feelings, and emotions," she continued.
Walkout organizers who are members of the Diversity Club also want to create a better school climate at DMAE with their voices and activism. They urged students to use social media to join together in solidarity with students across America and apply pressure to the government to change laws politicians won't change because of the power of the NRA. They expressed how students need to take actions into their own hands and fight for this cause to make schools safer.
"The walkout can inspire other teens and young people to stand up for what they believe in," freshman Sienna Tu said. "Even though we are young, being united helps us send a message that is heard nationwide," she added proudly.