Singing Hearts for Charity
"Sing-o-grams, well, to put it simply: you give us money and we sing for whomever you want," sophomore Kyle Castillo said. Instead of selling chocolates, bears, or flowers, music teacher Sandy Meltzer and her students had a different idea in mind.
All Valentine's Day week, Tri-M Honor Society and select vocal ensemble students popped in and out of classes across campus to sing snippets of love songs for someone that a friend, secret admirer, or teacher sent.
"It's one of the ways Tri-M raises money for charities each year," said Ms. Meltzer. "Past charities we have donated to include Operation Smile, Save the Children, war veterans, and the food pantry in town. This year, I'm looking at Kids in Need of Desks. That's the charity I'd like to support this year," she said.
Students who sang Sing-o-grams were enthusiastic and genuine as they sang heart-melting Valentine's Day songs such as "Like I'm Gonna Lose You" or "Can't Take My Eyes Off You" in all corners of the campus.
"I loved participating. It's a lot of fun to just go around and sing for people and see people get really happy,"  Kyle said, "In general, it just has a really good atmosphere to it," he explained.
Sing-o-grams have been a DMAE tradition for seven years, and they never fail to bring out just the right sentiments in time for Valentine's Day.
You can watch a video of a sing-o-gram here.
About the Writer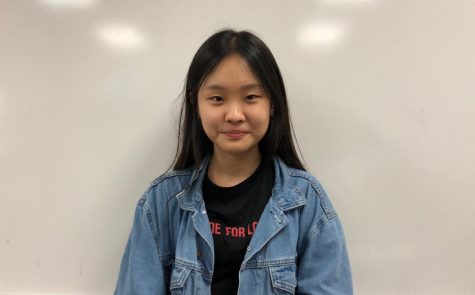 Kristin Kweon, Managing Editor
Kristin Kweon, a third year member of the Maroon Tribune, is a senior in the Law and Public Safety Academy and is this year's Managing Editor. Journalism...