NAHS Art Contest Joins March Madness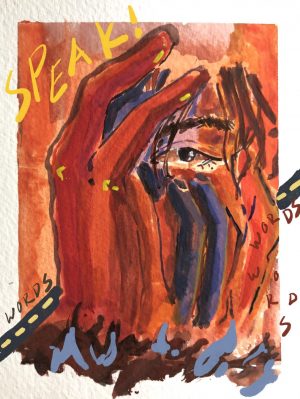 "Speak up!" is the name of an expressive piece of artwork by DMAE artist junior Alison Le that seems to represent courage. Alison won the National Art Honor Society (NAHS) contest for March.
For the month of March, NAHS hosted another Art Contest and related it to March Madness. The task was to create monochromatic art, or art from the colors of a single hue. As a result, the art was to be based on a grade or academy color.
"The idea to work monochromatically gave contestants freedom to choose their own themes and represent their grade or academy visually no matter their subject matter," NAHS adviser Mauricio Rodriguez said. "Those who have taken art exploration know that the concepts of separating values to create interesting contrasts can be as deftly applied to one color as they are used in grayscale works," he added.
 Students who participated in the competition also earned points for their grade or academy. Additionally, the winner would earn extra points for his or her March Madness team!
"
I'm driven by my love for creating and using visual arts as a way to communicate.
— Alison Le
"I'm driven by my love for creating and using visual arts as a way to communicate," noted Alison after she won.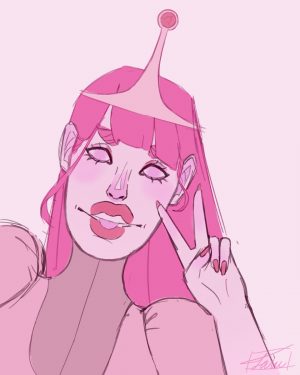 Alison won through receiving the most votes from a panel of judges organized by art teacher Grace Frangiosa.
There were 13 other creative entries with one from a Dwight Morrow junior, seven from Finance Academy students, three from Pre-Engineering Academy students, and three from Information Systems Academy students.
Junior LaNee Thomas offered a pink entry – a portrait – for the junior Pink Team. Junior Sam Majano submitted a red entry of a skateboarder gaining points for Pre-Eng. A blue entry of a sky scene was submitted by sophomore Daniela Matallana from ISA. Both juniors Serena Isahak and Maya Magnuski earned points for the Finance Academy for their green artwork: Serena's, a girl by a tree branch, and Maya's, a person surrounded by eyes.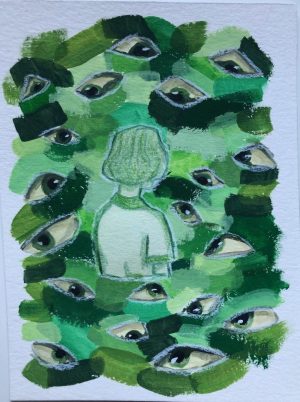 Alison's red experimental piece reveals her individual artistic voice that has long been in the making. It features a close-up of a figure whose hands are covering the face, all in fiery colors she described as "intense," "red," and evocative of  "embarrassment."
Although she was motivated to make this piece for Pre-Eng. points, her artwork actually expresses a message personal to her: a fear of public speaking.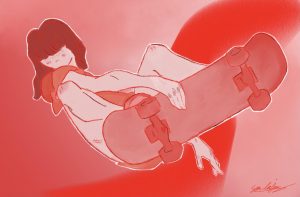 "At the end of the day, the visual arts is a form of communication," she said.
What got Alison to this level of artistic expression? 
"I started with creating comics, characters, and a 200-page sketchbook," she explained.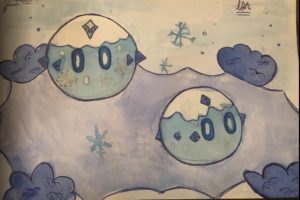 She typically uses pencil and ink, watercolor, and digital mediums for her works. Alison also explained how she has been inspired by BTS, Egon Schiele, and Hilma Af Klint as she progressed.  In the future, Alison hopes to complete her art portfolio, sell original art prints, and continue utilizing her unique form of self-expression.
The NAHS will hold a final contest of the year in honor of Pride Month in June.
About the Contributor
Andrea Olavarrieta, Arts Reporter
Andrea Olavarrieta is a bilingual sophomore in the Information Systems Academy and a first-year writer for The Maroon Tribune. In addition to writing for...