Penn Relays Magic
Dwight Morrow Girls Break 2 School Records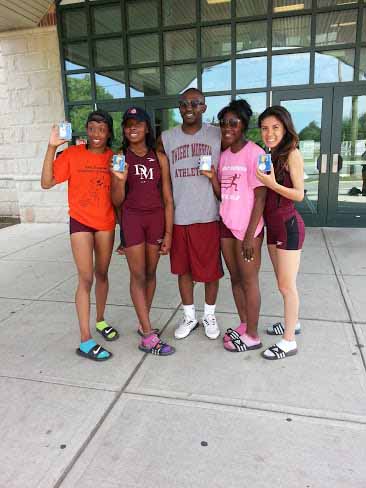 The Penn Relays, an annual collegiate track meet, hosted four athletes from the Dwight Morrow Track Team on Thursday, April 25, 2013. Shamika Harris, Tanjania Malcolm, Janienne Palmer, and Alicia Pena represented Dwight Morrow Athletics at the event. Located on the University of Pennsylvania campus, the Penn Relays is one of the most prestigious track meets in the country, since the beginning in 1893. Notably this year, the national event had a record-breaking attendance with approximately twenty three thousand spectators.
Only four of the 76 members on the entire Dwight Morrow Track Team (both boys and girls) qualified to run in this prestigious event. To qualify for the Penn Relays, the four girls all had to get a time under 4:20 for the 4×4. Those who qualifyed for the 4×4 automatically qualifyed for the individual event, the 4×1 as well.
"It was an honor to go there and represent DMAE and Englewood. It was a lot of fun and it was really cool," sophomore runner Tanjania Malcolm said. "Many coaches from colleges were there, and even the national team from Jamaica was there."
While qualifying had been the original goal for these girls, they surpassed their expectations and did extremely well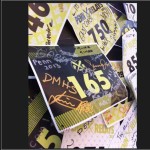 in the competition. As a relay team, the four girls ran two races, the 4×1 and the 4×4. The team of two seniors, Shamika Harris and Janienne Palmer, and two sophomores,  Tanjania Malcolm and Alicia Pena, broke the school record for the 4×1. With a 50.1 time for the 4×1 event, DMAE had the fastest time from all Bergen County schools that competed in the Penn Relays. The four stars didn't stop there; the team ran a 4:13 for the 4×4 event to breae another school record.
"The whole experience was just amazing. There was about 23 thousand people in attendance so running in front of that many people was frightening at first, but when the gun is shot, you just focus on the race and try to do the best you can," sophomore runner Alicia Pena said. "Overall, I would love to go back because it was a tremendous experience and we really bonded as a team.