DMAE Arts at Teen Arts
On Friday May 17, 2019, the students of the music and art department took a trip to Bergen Community College and partook in the festivities of the NJ State Teen Arts Festival of 2019. Administered by Sandra Meltzer and Gary Hollander, Teen Arts encourages students to participate in various workshops and learn to improve their own craft as well as explore their personal artistic interests. Some workshops particular to Teen Arts Festival's mission to emphasize the arts include African Drumming and Dance in the dance category, Digital Music Production in the music category, and Painting With Watercolors in the Visual Arts category. Each workshop was held by those distinguished in a specific category of the arts.
"
Teen Arts was really fun. I got to perform for people outside of the class and it was a new experience."
— Luz Campomanes
Teen Arts also allows for students to exhibit their own creations, and among the 4,000 students who attend the festival yearly, DMAE never fails to impress with the pieces of work that its students showcase. The art department had students who entered their pieces into the art exhibit at Teen Arts. There were countless entries from talented teens all over the state, and two of our very own students won awards for their outstanding work.
Senior Tyler Moon, one of the award recipients, reflects: "It was inspiring to meet other student artists. I wish I had gone on this trip years prior. Teen Arts was a unique experience."
The DMAE choir sang with all their heart, receiving abundant praise from the critics at Teen Arts as well as other town choirs with the song "The Greatest Show" from the movie The Greatest Showman.
Ms. Meltzer expressed her pride in the choir: "They worked so hard for this performance, especially because of the limited practices after school. But they really brought it and I couldn't be prouder!"
In addition, Ms. Meltzer's guitar class had the opportunity to perform in front of an audience outside of Englewood for the first time. This year, the class decided to play "Bailando" by Enrique Iglesias with featured vocalists from the music department. The performance was exciting and the class was enjoying their music, sharing their talent and display of friendship.
"Teen Arts was really fun. I got to perform for people outside of the class and it was a new experience. I recommend freshmen to take guitar because its a fun class and you get to learn a new instrument," said sophomore Luz Campomanes who is excited to see new students indulge and find value in the learning experience with the music department.
Lastly, DMAE closed the afternoon at Teen Arts with its Select Vocal Ensemble, and Vocal Synergy. With more than half of the group being seniors, this performance was one to remember. Having sang four songs, Vocal Synergy poured their hearts into each word, leaving the audience speechless. The group sang as one powerful voice and successfully delivered their stories through their music.
Senior Genesis Capellan is not afraid to show some love.
"Being a part of the music program is what made my high school experience the absolute best," Genesis said. My days with vocal have been marked as golden memories for me. Our teen arts performance was a success because of all the wonderful people in Vocal Synergy and of course, Ms. Meltzer!"
Teen Arts was first held at  McCarter Theater in 1969, and since then, DMAE has taken over Teen Arts with art and then some, thanks to Mr. Rodriguez and Ms. Browne from the art department and performances from Ms. Meltzer's guitar class, Vocal Synergy, and the choir. Many students who have attended the trip agree that Teen Arts was a memorable experience. They plan to support the arts again next year.
About the Contributor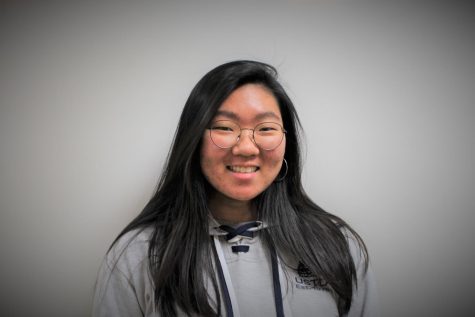 Tiffany Moon, Staff Reporter
Tiffany Moon, a current sophomore in the Pre-Engineering Academy in the Academies at Englewood, is a first year member of The Maroon Tribune. She is a...