Coffee House Sets New Stage
The DMAE music room was transformed into a surprisingly cozy Coffee House on April 11, 2019, as a fundraiser from the Tri-Music and English Honors Societies. Lights were strung across the ceiling and around the windows, blankets, and pillows were clustered on the tiered floor, donated pastries and other food filled a corner, and the stage was a rug with stools, mics and a pole lamp for reading music on a stand. 
"I thought the Coffee House was a rousing success – the performances, the deck, the food, the audience. The atmosphere in the room was supportive and appreciative," music teacher Sandy Meltzer said.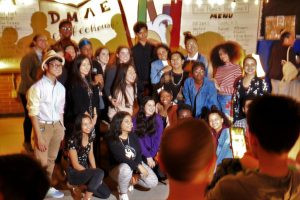 Over a hundred people, performers and attendees alike, came to enjoy the evening. The event featured a set list of diverse music and poetry performed by approximately 25 students. Most were seniors, including Genesis Capellan, Evan Lopez, Sidney Martinez, Veronica Papianni, who sang "Either Way" with her dad Mark, Patricia Parker, Jay Song and Tashianna Williams. Sophomore Rachel Chung performed a duet of "Best Part" with senior Jay Song, and even freshmen took the stage, including Jaeden Edmonds-Williams and Imina Adonri.
"The vibe was really cozy and homey," senior Veronica Papianni said. "We just felt really close."  
The Coffee House was organized by the two Honor Societies, and selections were approved by a panel of student judges, along with music teacher Sandy Meltzer and English teacher Mindy Rochman. 
"It was completely student run, so we didn't have Ms. Meltzer networking or doing any heavy lifting for us," senior Zoe Papianni explained. "It was easy to get people to help out because we had the support of both honor societies," she added.
The Coffee House offered an opportunity for students to share their talents in a relaxed environment. For some, it was their first time performing in front of an audience, as Jaeden did singing "What Baking Can Do." 
"It was my first singing experience at the high school," freshman Jaeden Edmonds-Williams said. "I wouldn't call myself a nervous person, but it was particularly difficult because of my peers. I never had to audition in front of my peers before, so I was a little nervous. But I think I repaired that — my cracks and my nervousness."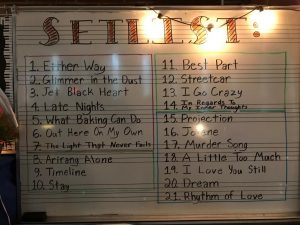 Though students enjoyed how the Coffee House was set up, some wished that there had not been a limit of four refreshments. The Coffee House ticket price included four treats, but because the treats were varied and delicious, many of them homemade, attendees wanted more.
"If it had been more of a buffet, it would have been better," Zoe said.
In the end, the Coffee House was a night to remember, and, according to Jaeden, "a night to conquer fears."
About the Contributor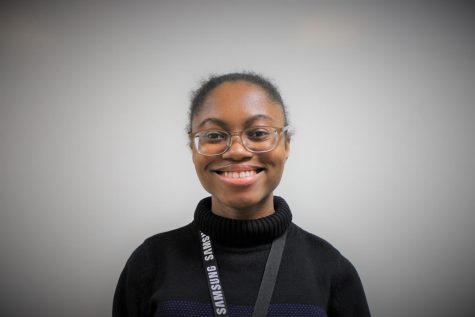 Lysa LeGros, Editor and Senior Staff Reporter
Lysa Legros, a senior in the Law and Public Safety Academy, is the Editor of this year's Maroon Tribune after serving on the newspaper staff for two...