Cross Country Team Breaks Limits
"You are your only limit" is the motto of the DMAE Cross Country team. This motivating expression has helped team members run faster and achieve success at meets this year. At the Big North American League Conference Kevin Williams and Arianne Garcia earned honorable mentions as the fastest runners for the 2017 fall Cross Country season.  
"The season was great. I wanted to improve myself in running and in general," junior Kevin Williams said. "I wanted to see how good my endurance was, too," he added.
Knowing that Cross Country is a competitive team sport that is based off individual effort, Coach Lisa Oden often helped team members with motivating expressions, including the motto adopted this year.
"
I ran fast because of my mindset — I told myself 'I can't quit, "
— freshman Arianna Garcia.
Coach Oden was track coach last year at Janis Dismus Middle School, but took over for Coach Reggie Williams at Dwight Morrow High School this year with help from Dennis Sullivan. With new coaches and a new attitude, the DMAE Cross Country team had a strong first season together:  the runners ended the season on a high note. Throughout the season they improved their times and technique on their courses, and they kept confidence high. Freshmen and sophomores run courses from 1.5 to 2 miles and varsity and junior varsity from 2.6 to 3 miles.
"You are your only limit" helped team members Sebastian Salazar, Arianne Garcia, Dylan Tsivouras, Anjali Patel, and Phillip Anerine improve personal times. Sebastian explained how  Coach Oden pushes her players to the limit.
"Coach Oden taught me how to finish strong by running as fast as I can as soon as I see the yellow line at the end of the course," said Sebastian enthusiastically about his training.
Along with the positive attitudes of captains Anjali Patel and Paul Luna, a special recognition was earned by Lysa Legros for team spirit. Looking at the improvement of all runner, the DMAE Cross Country  team will become even more competitive when the next fall season comes around.
About the Contributor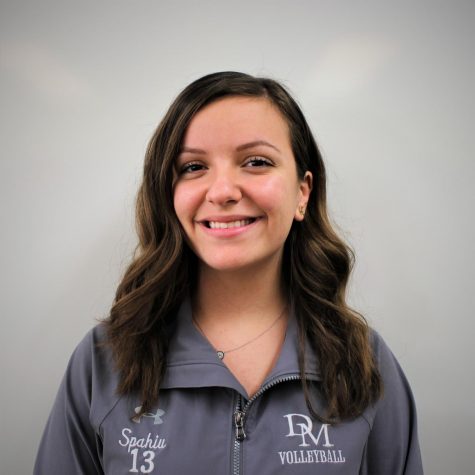 Klaudia Spahiu, Sports Editor
Klaudia Spahiu is a current senior in the Finance Academy and is a third year member of The Maroon Tribune as the sports section editor. She is one of...