#kindofcaught Being Kind: Red Cross Club Campaign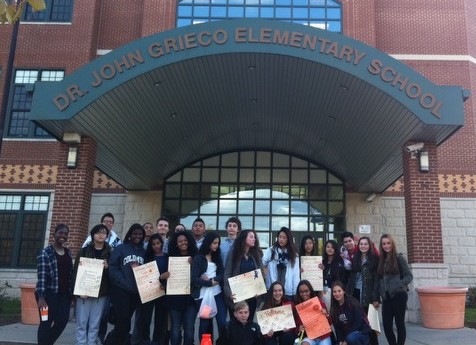 The members of the DMAE chapter of American Red Cross of North Jersey started a "Kindness Campaign" in December of 2014 to spread kindness all over the world.
"We really think it can be our big thing," club President Dylan Majsiak said.
The point of the campaign is to highlight random acts of kindness that occur daily. According to the club's adviser, Jackie Goolsarran, students who are noticed acting generously will receive buttons, already stacked up in room 422. Then, they will pass them on to people that they "catch" undertaking a thoughtful deed. The members of the Red Cross Club don't plan to stop there. Their next step is to spread kindness even further.
"We want DMAE to participate in it, but we want to expand it out of the school also," Dylan said.
In the world full of technology, members of the club plan on taking advantage of it to the fullest. The idea is to take a picture of the button received and post it on various social media websites, such as Twitter or Instagram, with a unique hashtag of #kindofcaught. Hopes are up that this way, kindness will be spread to countries all over the world. With a starting point of December, members wish to maintain the campaign throughout the year.
"Kindness Campaign" is just one of the many events organized by the Red Cross Club at DMAE. In the six years that Ms. Goolsarran (Ms. G) took charge of the club, they tackled a series of different activities suggested by the North Jersey Chapter adviser, Melanie Hazim. For instance, a yearly visit to a local Elementary School to give a Halloween Safety Tips Seminar to the children there. To respond to local community problems, the Red Cross Club has been organizing both Backpack and Food Drives, where bags full of school supplies and various foods were collected.
"It really just ranges from the stuff we do, which is why I love the club so much!" said Dylan with an upbeat spirit.
Another Red Cross Club initiative is its fundraiser breakfast for staff members of DMAE. To get a plate of donuts, crepes, muffins, croissants, scramble eggs or fruit, a donation of at least three dollars was required. Funds received for this annual event are sent for relief of families affected by disasters.
Ironically, the biggest problem for the Red Cross Club is that students love it and so never leave, yet only a limited number of students can participate. According to Ms. G, kids tend to enter the club as freshmen and love it so much that they stay for the rest of their high school career. This year, for instance, the club could only welcome two new freshmen members because there were so many upperclassmen.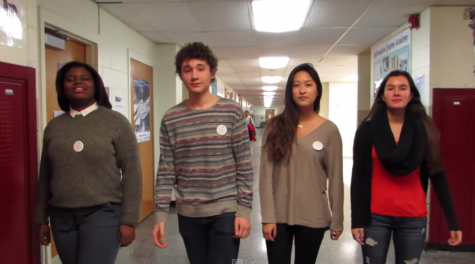 Looking ahead, Ms. G, along with junior presidents Dylan and Janice Wang, are hoping to lead the "Kindness Campaign" successfully around the world and created a video. To watch it, click this link: https://www.youtube.com/watch?v=XgLcotUWPsY