DMHS Chorus Joins TikTok Trend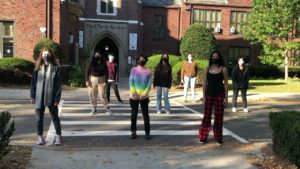 The wild flair of teenagers combined with a chorus teacher's trendy lessons makes for an amazing product, in this case, a DMHS Chorus class video based on a social media trend. 
The video played off of the TikTok fad, the "Grace Kelly Trend," which utilizes a singer's full range and skill. In the "Grace Kelly Trend," a person sings the refrain of the song "Grace Kelly" by Mika over and over, adding a new melody each time. By the end of the video, the recording has many melodies playing at the same time. 
"I thought that the video was a very fun and creative way to express a beautiful combination of voices," junior Shandry Almanzar Fabia said.
The process of developing the video took many steps for the class. First they learned the lyrics, then recorded each melody three times. After combining and editing the various parts with Garageband, the class went outside to record the video portion for the project. After combining the vocals and visuals, it resulted in an exciting video for the whole school to watch. The finished product is less than a minute long. https://www.youtube.com/watch?v=If_lakhKMl8
"
I thought that the video was a very fun and creative way to express a beautiful combination of voices.
— Junior Shandry Almanzar Fabia
"We had a lot of fun and the students enjoyed seeing how quickly something like this can come together," music teacher Scott Ziegler commented. 
The creation of the "Grace Kelly" video beautifully portrays the fun, positive environment that chorus class radiates. It is a low-stress, low-pressure environment that allows the students to have fun at school and take a break from their busy lives.
"I think that ever since I joined chorus during my freshman year I've found it to be something very fun and inclusive," Shandry added. 
With this success in the chorus' repertoire, many more songs are being taught every class, such as songs from the hit musical Hamilton. They are also learning pieces from the upcoming school musical, "The Addams Family," for which the chorus will sing along with the cast in the show.
About the Contributor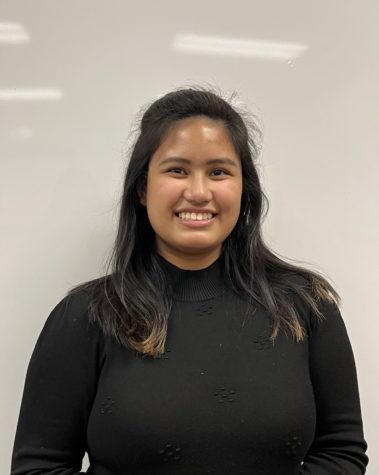 Hannah Ferrer, Co-Editor-in-Chief
Hannah Ferrer is a senior in the Law and Public Safety Academy and a third-year member of the Maroon Tribune. Not only is she an editor for the Maroon...