NCHS Chinese New Year Week
Activities, Culture and Prizes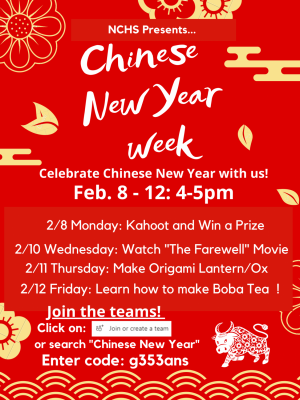 DMAE welcomed prosperity, wellness, and career advancement with the year of the Ox. In the second week of February 2021, the National Chinese Honor Society (NCHS) held an interactive event via Microsoft Teams in order to share and raise cultural awareness with students across DMAE. Several students and organizers came together in this event that was informative, yet entertaining and enjoyable.
"We decided to hold it since Chinese New Year, also called  Lunar New Year, is an important holiday within Asian, Chinese culture!" NCHS President Alison Le stated. "We didn't think having just one event would be enough to convey the importance of Chinese New Year nor be enough time to celebrate Chinese New Year in its entirety," she explained.
Throughout the week, students and staff would join video sessions where they would learn about Chinese New Years and as well as Chinese culture. What made this experience memorable is how NCHS members incorporated fun activities. Some activities included watching movies, playing Kahoot, creating origami, and learning how to make boba tea.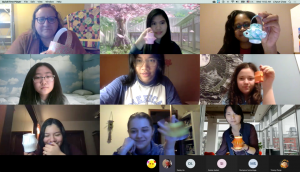 At the end of each day, students had a chance to win a prize that correlated to Chinese culture. Students left the virtual event with not only prizes, but a new sense of cultural enrichment.
"Since our attendees couldn't experience Chinese culture in person, we wanted to give them memorable prizes," Alison said. "We gave hong bao red envelopes and a calendar each day." 
Despite these hard times with the pandemic, adviser Lihyun Chao, President Alison Le, Co-President Timmy Zhang, Vice President Saki Kogawa, and many other volunteers entertained and informed approximately 30 participants.
"This event could not happen without their excellent collaboration work," Mandarin teacher Ms. Chao said.