Short Season, Many Challenges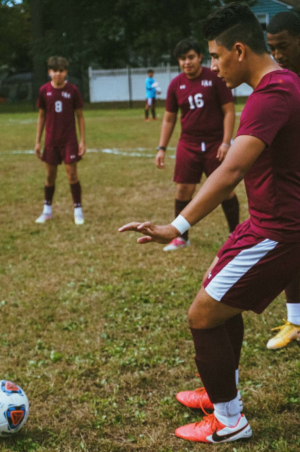 To athletes, the mere idea of having their entire season cancelled is a nightmare. Similarly, most DMAE athletes did not know if they would even see the field. Covid-19 threatened many expectations everyone had for 2020, but the Dwight Morrow High School Boys Soccer Team was lucky enough to at least have a shortened season.
"Covid has affected the season because we didn't get to train as much together as a team like other schools did, however, we still played well and tried our hardest this season," said junior Raihan Siddiqui, a key player for the team.
The Englewood Public School District has strict regulations on returning to school and sports safety. Many other Bergen County public school systems have incorporated new ways to safely return students to school and were not as tight on sports availability, as opposed to Englewood, which has kept a completely online school return with plans of going back on January 19, 2021.
"While the hard work of our boy's team has not translated into the number of wins that we expected, I would still consider the season a success. It was a perfect storm that was working against us. Between having a new coach, our inability to have in person workouts during the summer session, and a late start to the fall season added to the adversity the team faced," Dwight Morrow's Director of Athletics Joseph Armental explained.
This year's squad was led by team captains Jonathan Osorio and Daniel Morales. They took on leadership roles despite the challenges that less practice, a shortened season and a new Head Coach, Coach William Mera-Orozco, posed. They did not know what to expect this year.
"We lost a lot of games, usually by just one goal. But still, everyone has worked extremely hard, and the whole team has put in a lot of effort," Raihan said.