Garden Equality Workshop Sheds Light on Important Topics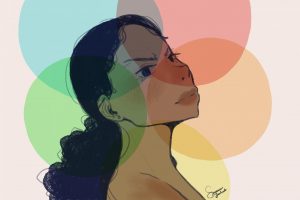 How will the elements of your identity influence your future? On the morning of November 10, 2020, students gathered for an online workshop presented by the Garden State Equality organization to discuss answers to that question. 
The online workshop conducted over Zoom educated students about a multitude of topics such as LGBTQ+ rights, racism, and intersectionality. Students participated in discussions that highlighted aspects of their personal identity such as economic status, gender, or race, and how those factors would impact their future. 
The event was organized by DMHS school counselor Jalesah Brooks who explained the importance of a workshop like this within the context of our society. 
"As individuals, it is good to be self-aware in understanding why we believe and think what we do, and how that translates in our treatment and communication with other people," counselor Ms. Brooks said. 
Students who participated in the workshop revealed that they were able to learn a lot about themselves and each other.
"I was able to see how everyone in the workshop was so diverse, and how their values influenced their beliefs on the idea of social justice," junior Sreeja Satish said. 
Ms. Brooks plans to hold more workshops in the future such as this one, as the event teaches students important lessons about identity and its significance in their lives.
"No, we will not always agree on issues, but we must respect each other" Ms. Brooks concluded.