A Virtual Freshman Experience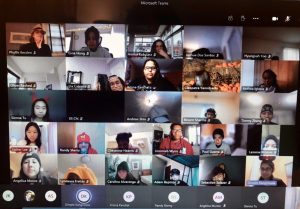 Throughout the month of October, students and teachers from all grades and classes at DMAE worked tirelessly to create an exciting Freshman Experience (FX) for the Class of 2024, which was held virtually this year. After two months of endless homework from rigorous classes and the general fatigue caused by virtual schooling, the end of the month of October was an exciting time for the new freshman. 
FX allowed freshmen to have ample opportunities to bond with each other and upperclassmen, and learn more about their school. 
"Freshmen experience was not like any other year, but we made the most of it! It was very fun because I was able to lead the freshies with some of my peers. We laughed a lot, played games, and learned about DMAE," senior peer leader Khushi Panchal remarked.
The series of events took place from Oct. 20-27, 2020, and included an exciting Game Day, "I Can Do That" session (where students learned all about clubs and other student organizations), Goose Chase, skits and even a Halloween Bash. Then on Oct. 23, the ninth graders experienced Friday Tea, where they listened in on precious advice from upperclassmen about classes, teachers, and their experiences with extracurriculars.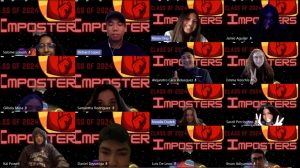 In previous years, students went on a one-day excursion to the nearby Alpine campgrounds and participated in many in-person bonding activities from hikes to skits, but this year's virtual FX was no less exciting. 
"This year's freshmen are fearless, creative, and fun. They started off shy, of course, but each day more cameras clicked on so we knew FX was working," organizer Judy Aronson said.
Peer leaders learned more through the experience, too, not just about the new freshman but also about their school.
"The challenges this year were endless: putting together and distributing 250 goody bags with personal welcome letters from their Peer Leaders, designing eight days of fun "virtual" activities, asking 16 teachers each day to chaperone during their free time, training Peer Leaders to manage a 'class' on Teams, and all this had to be dealt with before the Peers even met their freshmen!" Ms. Aronson said. 
Teachers and administration also fully supported the event, especially with the pandemic circumstance.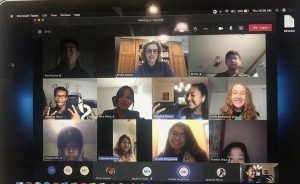 "This was a team effort and sacrifice like nothing I've seen," Ms. Aronson said.
The freshman started off the month of November with a new perspective on their community, their peers, and the unique opportunities offered at DMAE.