BFC Honors Coach Harris: Mentor to Englewood's Youth
"
I have been able to create positive change and long-lasting impacts on the students in our schools which has trickled down into the community in many ways."
— Coach Harris
The Bergen Family Center webpage features quotes from its Vice Chairman of the Board of Trustees, a Journalist and a Mentor, DMAE's very own Barry Harris.
 "We are placed on this earth to serve each other, and Bergen Family Center is all about serving families who need our help. I've tried to do that through coaching, and being a mentor. Helping teens is one of the most important things we do," he said.
And with this statement, "Coach" Harris clearly sums up his work, beliefs, and his connection to the Bergen Family Center (BFC). Harris is the director of security at Englewood Public Schools, but he is a mentor first and foremost. Inspiring and helping young people are things he has been doing all throughout his life. Similarly, the BFC's objective is to strengthen Englewood by giving aid to all those who need it; their shared goals have resulted in frequent cooperation. 
Due to his outstanding work for the BFC and the community, Harris was honored by the BFC and its president Mitch Schonfeld on November 6, 2019, at the annual fundraising Gala held at the Rockleigh Country Club.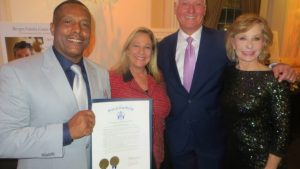 "We honor Barry Harris, former Dwight Morrow High School football coach, because he is a tremendous role model for local youth and helps BFC improve our youth development programs. Barry's additional expertise in campus security affords greater safety within our facilities," said Mitch Schonfeld, president and CEO of the Bergen Family Center, who greatly admires Coach Harris. 
Mr. Harris had a passion for football from a young age. He was on the Dwight Morrow football team in the early 1980s and even played in the NFL. But his abilities truly shone as a coach, not as a player. The various life lessons he learned from football combined with his wish to give back to his school and his community culminated in his term as Dwight Morrow head coach from 2012 to 2015. 
"Being a coach has afforded me the privilege to connect with the youth and the community on varying levels. I have been able to create positive change and long-lasting impacts on the students in our schools which has trickled down into the community in many ways. I believe that teaching life lessons through athletics will inspire young people to succeed in endeavors both on and off the field," Coach Harris said. 
Besides coaching, Mr. Harris been recognized by the state of New Jersey for advocating for the prevention of domestic violence and sexual assault in recent years. He has also contributed to programs and events geared towards kids and teenagers, one such program being the Teen Center at the BFC. 
"It's about giving back to the community," Coach Harris said. "And what better way to give back than to guide students onto the right path?"
About the Contributor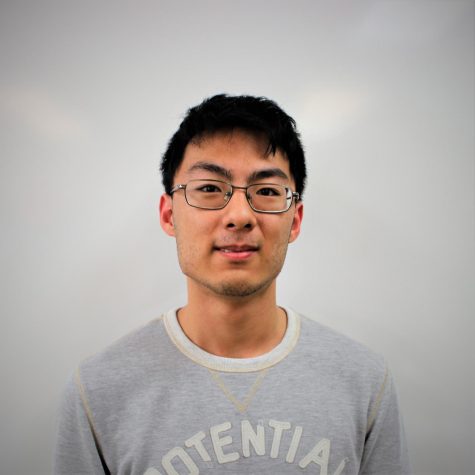 Devin Kim, Staff Reporter
Devin Kim is a junior in the Information Systems Academy, and his second year writing for The Maroon Tribune. Besides his work as a student reporter, he...