Low Turnout at Career Fair
"
The representatives clarified any questions I had about their campus, and were enthusiastic all throughout the event."
— Brian Lee
On October 13, 2019, DMAE's Guidance Department hosted its newly implemented tradition, the Career Fair, for all interested students. Staff members invited representatives from various branches of the military, trade schools, and beauty institutions to promote their respective programs and to help seniors navigate their futures. 
"All the guidance counselors contributed to the Career Fair — Rachel Cohen even reached out to her father, a chiropractor, to come in and present," event organizer Denise Astuto said.
Despite their collective efforts and optimistic expectations, the guidance counselors were unfortunately met with general disinterest from students, resulting in a considerably low turnout. Panelists who were once eagerly waiting for students to approach their booth, resorted to scrolling through their phones, attempting to find other forms of productivity.
The students who did attend the Career Fair however, enjoyed the experience, as they were able to gather more information on different schools and military divisions that had previously piqued their interest. Speakers from institutions such as the Parisian Beauty Academy in Hackensack, and Lincoln Tech in Paramus were present, as well as officers from the Navy, Army, and Airforce.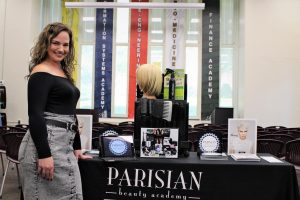 "The Career Fair provided helpful insight on my future and where I could go for college," senior Hyunsoo Kim said. 
Each representative provided interested onlookers with information pamphlets, school forms, and even small knick knacks such as pens. The Lincoln Tech spokesperson distributed stickers with their university logo, hoping to leave a lasting impression on the students. Despite the students' clear indifference, their professional manner was maintained throughout the fair.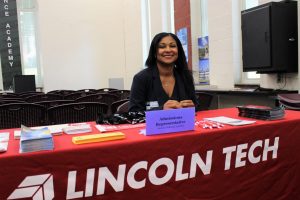 "The representatives clarified any questions I had about their campus, and were enthusiastic all throughout the event," senior Brian Lee said.
Although the attendance was sparse, various organizers are still hopeful that the Career Fair will maintain its status as an annual activity on campus. The event effectively presented some students with a myriad of opportunities to discover their interests and nurture their passions.