How Not to Bully: Ally Week
It is always a good feeling to know that someone has your back. Doing the right thing is hard to teach but on Thursday Sept. 26, 2019, eager educators from the Garden State Equality (GSE) organization gave a  Moral Literacy Workshop as part of its Teach and Affirm Program for two periods in the Library. Approximately 20 students attended this event including members of the Gay Straight Alliance (GSA) and other DMAE interested students. 
"The purpose of the workshop was to give students more information on what bullying is, how it plays out in school, and how we can be an ally to the LGBTQ community. We are always looking for ways to make this school a more inclusive environment for students that identify as LGBTQ," organizer Jalesah Brooks said.
During the Workshop, students learned how bullying is related to race, ethnicity, religion, body shape, political views, gender, and gender identity. Various types of bullying and the effect it has on the person being bullied were demonstrated. Students were encouraged to share their own personal experiences related to bullying and this created a positive and open conversation.
"
I didn't have much knowledge on the LGBTQ+ community but I'm glad she came to our school to explain it in great detail."
— Tiara McFadden
"It was a very good presentation. Before she came, I didn't have much knowledge on the LGBTQ+ community but I'm glad she came to our school to explain it in great detail," junior Tiara McFadden said. "It was also very interactive and related to real world problems even if you aren't a part of the LGBTQ+ community," she said.
The Guidance department never wants any student to feel alone because of his or her identity. Ms. Brooks along with everyone else in Guidance believes that it is of utmost importance to recognize Ally Week.
Ms. Brooks plans on inviting the GSE back next year for another workshop. Additionally, the Guidance Department and the ZONE will have presentations on domestic violence in February, which is Teen Domestic Violence Month. 
If you or someone you know is being bullied, you can contact the GSE Anti-Bullying Helpline by calling 1 (877) NJBULLY. 
The GSE is a civil rights LGBTQ organization in New Jersey from which members came to Dwight Morrow Academies @ Englewood for the first time, to speak about bullying and other related issues. The Teach and Affirm Program from GSE has the ultimate goal of bettering the lives of LGBTQ students by speaking out about the critical issues they face. 
About the Writer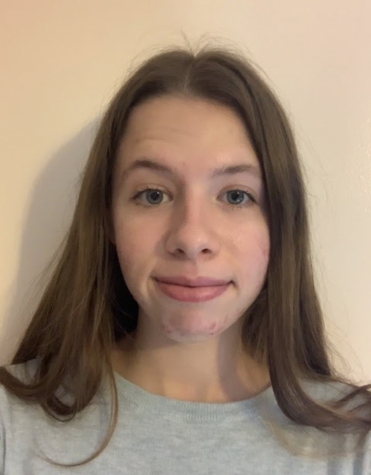 Katie Sudol, Co-Managing Editor
Katie Sudol is a third-year member of The Maroon Tribune. She is a senior in the Biomedicine Academy who aspires to become a pediatrician in the future....