DMAE's Tip Top Brew Crew
"
It feels amazing being in the Brew Crew. I'm learning different skills that I've never had before.
— Cristian Rodriguez
Every morning as the sun rises on the DMAE campus and students shuffle off their busses, teacher Theodora  Murphy and the Brew Crew are behind the scenes making a large urn of coffee to help out the staff and community.
"It's good making coffee and I like serving customers," freshman Tyrell Batten said. "It's a pretty good way to get money for our trips," he added.
The Brew Crew started originally as a group of students selling coffee to fundraise for activities in their classroom. However, the Brew Crew ended up with a little coffee "shop" that is now managed by this select group of DMAE students as a class project. Students' jobs range from coffee making to delivering coffee and baking from time to time. Thus, students learn life skills that will apply to and help them for jobs, such as learning to make change or take orders.
"The Brew Crew is about preparing kids for the real world now, rather than them going out when they're 16 or 17 years old not knowing what to do," Ms. Murphy explained. "We have a lot of fun. We do a lot of real world kind of stuff. It's nice because we have an environment where you can make mistakes, and it's okay,"  Ms. Murphy added.
However, the Brew Crew is more than just a learning activity. It was an example of the kinds of projects possible in the Life Skills class that build confidence along with practical skills.
"It feels amazing being in the Brew Crew. I'm learning different skills that I've never had before: coffee making, baking, making and managing money, and handling business. Handling money is difficult. Now I get it. It's getting easier over time," junior Cristian Rodriguez said.
The Brew Crew will continue next year and Ms. Murphy hopes to expand the shop in two ways with the students in her class. First, by making the Brew Crew an after school club with various students, and second, by adding a food truck! Students in her class are also considering starting a school supply shop that might also sell DMHS clothing.
About the Contributor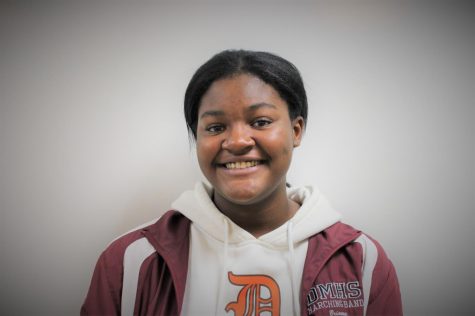 Delia David, Staff Reporter
Delia David is a first-year writer of The Maroon Tribune and a sophomore at Dwight Morrow High School. She is currently a member of the school chorus and...