Open Houses Spark Interest in Class of 2023
Just after DMAE opened its doors to its own students last September, it opened its doors to potential applicants to The [email protected] at open houses held in October, and this year's open houses featured new presentations.
Students and parents who attended the Open Houses on October 11, 17 and 30, 2018, met new administrators of admissions Mariette Ng and Rosemary Seitel. Ms. Ng and Ms. Sietel worked with other administrators, faculty and student volunteers to showcase The [email protected] opportunities. All worked hard to provide accurate and informative overviews of each of the five Academy programs.
"I saw the hard work of the student ambassadors first hand and they were very involved in the process," noted junior Brian Lee who has volunteered as a student ambassador in previous years.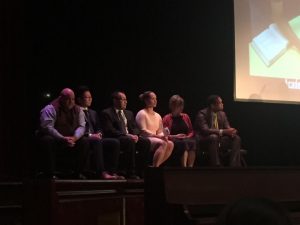 For the 2018 Open Houses, Brian welcomed the class of 2023 and gave the student speech to explain the way the Academies work and what special options the Academy program can offer to high school students.
"I was really able to accurately portray what being an Academy student is like," Brian said.
The open houses started at 6:30 p.m. with a powerpoint presentation and a panel of administrators that included Principal Billy Bowie, Superintendent Robert Kravitz, Ms. Ng, and Ms. Seitel. Additionally, the Director of Guidance Jamie Ciafalo opened the event with a short statement, and the Director of Athletics Richard Suchanski also spoke on behalf of the guidance department and Academy programming.
The presentations, including course sequences and activities for each academy, were presented in locations around the school. Three presentations were brand new and different than previous years because their program managers had left. Consequently, Mr. Kravitz presented for the Finance Academy, history teacher Stephen Hanson led the Law and Public Safety Academy, and science teacher Jackie Goolsarran represented the Biomedicine Academy. Program Manager Anthony Dinallo gave his annual Information Systems Academy program presentation as did Program Manager Rany Sherry for the Pre-Engineering Academy.
Student ambassadors led tours around the campus and did their best to compensate for the new presenters whose presentations were different lengths creating timing inconsistencies. However, parents of the eight graders appreciated how smart and energetic the ambassadors were.
As they left each presentation, parents and students clutched newly designed pamphlets showcasing the Academy for later reference. There were approximately 200 attendees for each Open House and more than 500 students later applied for admission to the programs.
"Despite the small issues, I viewed the open house as a positive way to represent the face of the Academies and how it has opened up opportunities for me and others," Brian said.
About the Contributor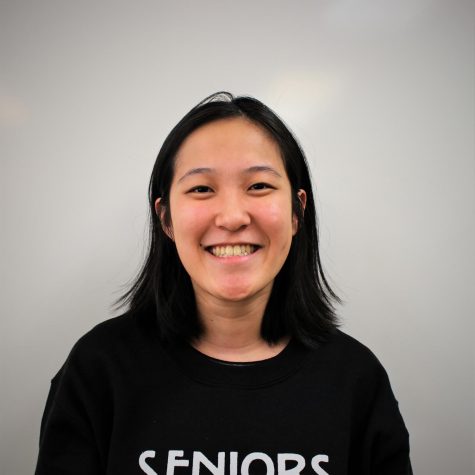 Sarah Yang, Co-Editor in Chief
Sarah Yang, a senior in the Biomedicine Academy, is the Co-Editor in Chief of The Maroon Tribune for the 2019-2020 school year. Within the school community,...