Model UN Team Wins at UCONN
The three-day University of Connecticut Model UN trip brought students of the DMAE Model UN Club both success and experience last November 2-4, 2018, as the first competition of the school year. Students displayed their reasoning skills and enjoyed earning recognition for their arguments.
"It was really fun to debate my country's stance on issues and prove the correct course of action to be taken," sophomore Yusuf Abu-Hakmeh said.
Students become delegates of countries around the world to debate and settle global issues as members of Model UN. Although nervous at first, they end up being excited for a weekend of learning about issues and improving their speaking skills with peers. In short, students love the chance to take a position and strongly argue for the topic at hand.
"
A highpoint for me was meeting new people and talking with them in the hotel, on the bus and during lunch.
— Emre Ozmemili
Sophomore Emre Ozmemili was on the Disarmament and International Security Committee. He argued in favor of the Iran Nuclear Deal as the delegate of Iran. His Committee ended up passing a resolution renegotiating the Iran Nuclear Deal with the United States along with other nations.
"The session was a unique learning experience where my peers and I showcased our speaking skills," Emre said.
There were 17 students from the DMAE Model UN Club at the UConn Conference who represented assigned countries and argued their opinions in committees: seniors Philip Bern, Nicolas Cella, Drake Rollerson, Matthew Stoeski and Emilia Wesolowski, juniors Philip Arun, Emily Chung, Angelina Han, Hyunsoo Kim, Sarah Yang and April Yoo, and sophomores Yusuf Abu-Hakmeh, Alexander Ha, Jeff Hong, Daniel Kim and Emre Ozmemili.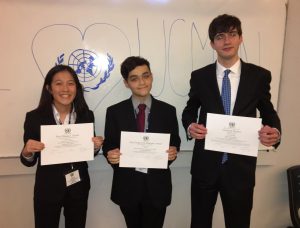 Sarah Yang received Best Delegate, Philip Areni earned Most Improved Delegate, and  Nicolas Cella received the Honorable Mention for the Betty Hanson Award.
However, debate was not the only satisfaction of the UConn conference; meeting peers from other states and getting to know them was an added benefit.
"A highpoint for me was meeting new people and talking with them in the hotel, on the bus and during lunch," Emre said. "I'm still in frequent contact with one person," he added.
The team will compete at several other conferences set for the 2018-2019 school year.