On November 25th, 2018, hundreds of graduates and many current and former faculty members from the Dwight Morrow High School/[email protected] gathered in the Martin Luther King Jr. Hall to celebrate the school's 15th anniversary and the accomplishments of the graduates. Teachers reunited with their former students and students met again, reminiscing about the countless memories made throughout past years.
"It was so wonderful to see everyone. It is so impressive how accomplished they are," history teacher Judy Aronson said. "It reminds me as a teacher that everyone gets there eventually," she noted.
A lot of planning went into making the event possible. While everything was put together very quickly, it took a lot of coordination to reach out to the former graduates and publicize the event, which was primarily done through social media. Mindy Rochman and Judy Aronson coordinated the event with the assistance of two former graduates, Danielle Pruitt and Rita Johnson. The food was provided by local restaurants Blue Moon Cafe and Chick-Fil-A.
"I think everything really came together. For one thing, we were only expecting about 50 people to show up, but by the end of the night over 200 people came through the doors! In my eyes, this event really demonstrated that alumni of [email protected] are excited about opportunities to get together with each other, along with teachers and even current students," Danielle said.
The Academies program began in 2002. It was a risk at the time, and the program would come to face many challenges after its inception, but it has survived, nonetheless, and continues to foster academic excellence and achievement.
"While in school, we were a part of a community that supported and looked out for each other. I think it is awesome for that community to continue after graduation," remarked Rita appreciatively. "Events like this one give us chances to network with other alumni, catch up with old friends, and reminisce about our time spent together in school," she said.
Ms. Aronson commented that with 15 years of existence, the Academies has a "veritable alumni association that can be powerful for networking, mentoring and for maintaining this academic program." She added that it represents proof to people in Englewood who weren't sure if the academies would succeed. But it has, and many of its alumni have gone on to work in highly esteemed environments including Microsoft, Google, and Wall Street.
"It'd be great to continue to build off of this enthusiasm and really continue to foster that sense of community by having more regular events." Danielle said.
Not only was it exciting for former classmates and friends to catch up and talk about their experiences after graduation, it was also gratifying for the teachers who had been at the school during the beginning years to see the successes of the students they had taught and said goodbye to years prior.
"The entire experience was a combination of deja vu and 'can you believe it?' It was an amazing, fulfilling night for every teacher who taught and knew these kids in the classroom and who are now adults," history teacher Stephen Hanson remarked. "There was a whole lot of appreciation and mutual admiration inside the south cafeteria and along the King Hall hallways that evening. A lot of reminiscing and remembering and smiles!" he added.
About the Writer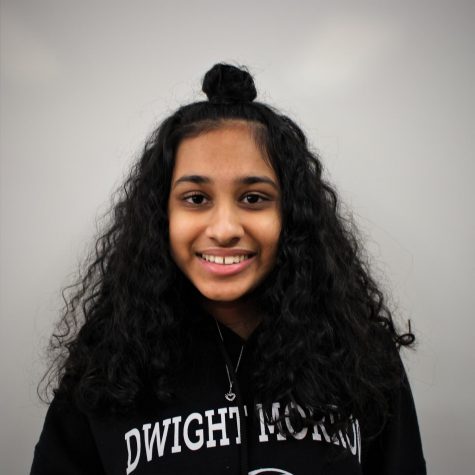 Godsy Philip, Senior Reporter
Godsy Philip, a senior in the Law and Public Safety Academy at the [email protected], is a third-year member, news writer and copy editor of The Maroon...