Lady Raiders Hit the Ball out of the Park April Fools' Day Prank
Lady Raiders Hit the Ball out of the Park on April Fools' Day 2016.
Players gathered in the DMAE gym that day to pull one of the greatest pranks in DMAE history leaving their coaches speechless and upset, but also somewhat amused.
"The plan was for some of the players to wear the home jerseys rather than the away jerseys to make the coaches flip out," freshman player Soubia Hasan said. "They had specifically told us to wear the maroon jerseys the day before because some of the varsity players had worn  white by mistake. Wearing the wrong color can cause a player to sit out," Soubia said.
The idea of this April Fools' prank came from a clever upperclassman softball players.  The team started the prank with Coach Siu.  She reacted by getting upset but was not totally surprised.
"This was the f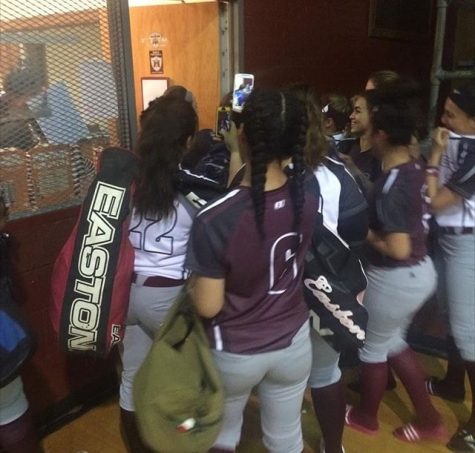 irst year we had two jerseys, home and away, so it was reasonable to mess up," Coach Siu explained. "It was our first game so I figured some of the girls may not have realized what they needed to wear," she added.
However, the prank became even bigger than the girls anticipated. After letting the prank play out with Coach Siu, it was difficult not to chuckle, and soon they told her what they did.
"I was so happy that we wouldn't show up to our first game like a hot mess that I even played along with the girls so that we could also prank Coach Dudsak," she said. "I wasn't going to be the only one fooled that day!" Coach Sui said.
When Head Coach Marc Dudsak saw that the team's jerseys were the wrong ones, and was told that no one brought the correct ones, he too became upset believing that it should not have happened after the careful instructions to wear the white jerseys.  But in the end, he was laughing along with the girls. They rushed back to the locker room to change their jerseys and went to their games with great enthusiasm.