Scheduling Mess
Back-to-school season on DMAE campus can be described in two words: controlled chaos. Students scramble to find their classes. Teachers try to stay sane as new kids switch in and out of their classes everyday. Administrators hustle to contain all the clamor and excitement that typically comes with the start of a new school year. However, this year, that "chaos" was far from controlled. The main perpetrator? Disorganized schedules.
"Saying the schedules were messed up is an understatement," senior Josh Castillo said. "Many people were missing core classes. Others were apparently taking classes they already took. One of my friends actually had 3 AP classes in one period."
Schedules are usually an issue that is dealt with every year, but this year proved to be more difficult than previous years. With a new schedule coordinator in place, the process of generating student schedules took longer than usual. Administrators, teachers, and guidance counselors worked during the summer and early fall to put together every student's customized schedule. Still, come first day of school, many students received partially made schedules. Vice Principal Joseph Armental claimed the biggest problem was electives.
"The far majority of the schedules were an issue because of electives," Mr. Armental explained. "People were scheduled in one elective but wanted another. The toughest part was sorting those out."
Principal Peter Elbert, though, accredited three different sources that caused this scheduling mayhem. The first were the "unusual subtleties of the Academies' schedules" such as conflicting Academy focus classes and gym periods that confused the new schedule coordinator. The second were "singletons," or
The mess with the schedules and everything made me feel like the school was not really on top of things.
classes offered only one period. This dilemma meant some students had to pick between two AP courses they wanted to take. Finally, the third source was the lack of required underclassmen sections. At one point, a single Money Matters class, typically taken by sophomores, had 90 students.
All of these factors added up resulted in frustrated students and teachers. Although guidance counselors worked quickly to fix all the schedules from scratch, many students had an average waiting period of two to three weeks.
"I honestly felt that there was no point in going to school the first few weeks," senior Daniel Pak said. "I was attending classes that I knew I wasn't going to be in."
The freshmen class was also disappointed in the lack of organization during the back-to-school season. Some admitted that it affected their first impression of DMAE.
"The mess with the schedules and everything made me feel like the school was not really on top of things," freshman Denise Yildirim commented. However, she later added, "The guidance counselors of AE were so quick and attentive that my perspective of the school improved."
While the chaos of disorganized schedules had finally died down, many students hoped that in future years, the scheduling issue that arises every year would be solved earlier. Fortunately for students, administrators and the Board of Education felt the same way.
"We are confident that moving forward, we can resolve this issue before the start of school," said Mr. Elbert with his Mr. Clean grin. "Our goal is that during the last week of school before the start of summer, we can hand every student their schedule for the upcoming school year."
About the Contributor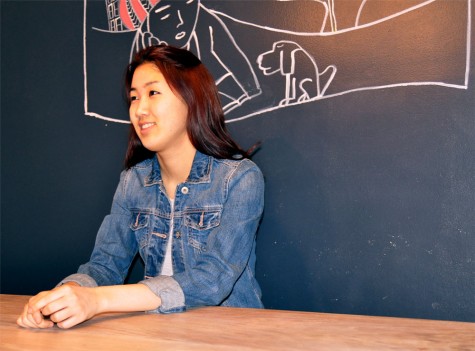 Julianne Jeon, Editor-in-Chief
Julianne Jeon, or "Julie," is a senior in the Biomedicine Academy and the 2015-2016 Editor-in-Chief of The Maroon Tribune. She is also in charge of...